Friday Kinder Surprise Egg Blogging
I don't know whether to refer to them to y'all as Kinder Eggs or Überraschung Ei. I personally go with the German name but maybe it's easier to read if I just say Kinder Eggs.
So Kinder Eggs it shall be.
I have treated myself to a Kinder Eggs avent calendar. Be prepared for lots of Kinder Egg blogging if I run dry on subject matter.
Roll your cursor over this pile o' plastic bits to see what I made.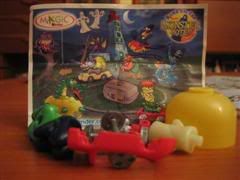 Yikes! Scary red haired Frankenstein dude in a weency car. Shouldn't he have been in the Halloween Kinder Eggs promotion?
I'm digging his glow-in-the-dark head though.