Friday Shuffle - Peach Pilgrimage, Day 1, Part 2 Edition
This post is part of an ongoing tale of my trip back home to Mississippi to visit my family. To start the story at the beginning, begin reading from October 30, 2007.
After our date with a bucket at
Silky O'Sullivan's
,
Robin
,
Lisa
,
Michele
and I made it back to
The Peabody
to wait for A and S to arrive. After getting our luggage situated until we could check in we found a table and got another round of drinks, albeit alcohol free ones. All of us except for Lisa. She was still on Diver Duty.
Twenty or thirty minutes later - it was hard to keep track of time at this point - A and S breezed into the hotel lobby and found us. More squeals, more hugging, more laughing. A was the one taking care of our accommodations so she did her thing at the registration desk. I was still somewhat in the dark regarding where and how we'd be staying. I figured we were getting a couple rooms to share. Boy, was I wrong.
Our bellman gathered together our luggage and as we were getting the girls together to go up to our room or rooms or whatever it was going to be, Robin told the bellman that we were not only together to celebrate my trip to America but that it we were also celebrating Robin's birthday. The bellman, being as he was a wise man and practiced in the art of schmoozing, claimed that she must be turning sixteen years old. Evidently this bellman was a master of the schmooze because Robin and I nearly fell in love with him at that point.
We rode up together, the six of us, the bellman, the luggage cart and our stash of beer and trashy snacks and when we arrived at the door the bellman unlocked it for us and that's when I found that we weren't in a regular room - we were staying in one of the celebrity suites plus two rooms that adjoined the suite. Plenty of room for us, our luggage, our Cheetos and the bucket!
Of course since it was us we had to have something ridiculous happen immediately. I'm not pointing any fingers and I don't have any proof but
Michele
someone broke the knocker on the suite's door. The bellman was properly horrified - not that we broke the knocker but that the knocker broke at all. Before he could get our luggage put away he was on the phone to maintenance to have someone come put this knocker back and now.
Like I said, I'm not pointing fingers, but I find it funny that Michele is proudly displaying her knockers...err...knocker...while Lisa show us that if you're in the Celebrity Suite they'll let you bring in as much trashy junk as you want. Photo by Robin:
While the bellman, who by then had told us his name was Marvin so we could ask for him any time we wanted something, finished getting us settled in we discussed what we'd do for supper. It seemed a shame to leave that gorgeous suite that we'd just entered to go out to eat and someone said half jokingly "I wonder if the
Rendezvous
(which is located across from the Peabody) delivers?". Marvin was taking his leave of us about then and we piped up and said "Marvin, does by chance the Rendezvous deliver to the Peabody?" and he replied "They do if I go pick it up for you.".
And that's when we declared Marvin to be the greatest bellman in the history of bellmen.
Marvin went to fetch us a menu and a few minutes later we were surprised to find room service at the door with two bottles of champagne accompanied by strawberries and cream. Oh it seems that someone out there knew just how to thrill us. Want to see six happy women who were well on their way to being spoiled rotten? Photo by Marvin, the greatest bellman in the world: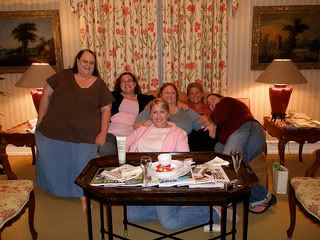 From left to right: Michele, Robin, me, A and S and Lisa is in front.
Before we could get into the second bottle of champagne Marvin was back with our six large orders of ribs and we proceeded to get the dining room of our suite smelling like a back yard grill party. And I don't know if champagne makes one extra hungry but I don't think there was one leftover rib. There certainly wasn't any leftover champagne and as we talked and laughed and ate the miniature cheesecakes that Robin and Lisa brought with them another two bottles of champagne arrived. It's amazing how that can happen in such a magical place.
I was overwhelmed. It was hard for me to take it all in. I would walk around the suite and the adjoining rooms and marvel at how lovely they were. I was so touched and thrilled that these five women put their jobs and families and lives on hold to come to Memphis just to see me. And I couldn't believe how A, who is such an accomplished and talented woman, could arrange for us to be spoiled in that hotel. In a world where people put strings on everything, here was a friend who made that magic night happen just because she knew I loved that hotel and she wanted to give us all a treat and the only thing she wanted from it all was the joy she'd receive by watching us enjoy it. And so we enjoyed it to the hilt.
After eating ribs out of styrofoam boxes in a fancy hotel suite's dining room we grabbed our champagne and went into the living room to relax and do what we do best - talk openly and honestly and from the heart. And laugh. That's what we really do best. Laugh.
Lisa and A in one of the truly few quiet moments of that weekend.
This was more typical of us that weekend - Lisa, A and my sock monkey,
Lottie
. You didn't think Lottie would miss the Peach Pilgrimage, did you?
Robin desperately trying to get online just in case we could find online someone we know so we could tell them where we were and rub it in.
As the evening grew longer and the Pilgrims grew more tired we eventually drifted one by one off to bed. Robin, A, S and Michele each got a queen sized bed while Lisa and I shared the king sized one. The one with so many pillows on it I would have had to cross them in an SUV if I wanted to find Lisa on the other side. And I slept like the dead 'cause that's what a Diver, a lot of grilled pork and champagne will do for you.
It's Friday and that means a shuffle. Bixente the iPod, do your thang.
This Year's Love - David Gray
Misirlou - Dick Dale & His Del-Tones
Sweet Baby James - James Taylor

Radio Nowhere - Bruce Springsteen
Jenny Was A Friend Of Mine - The Killers

Gone Gone Gone (Done Moved On) - Robert Plant/Alison Krauss
One - U2
Roll With It - Oasis
Twist Of Cain - Danzig
Fool In The Rain - Led Zeppelin
Tomorrow - Day 2 of the Peach Pilgrimage: The power of telepathy, more pig, yarn and hairstyling, pink SnoBalls and Michele breaks bad. Again.
Labels: Friday Shuffle, hometown adventures, NaBloPoMo, Peach Pilgrimage