Friday Shuffle - My Trip Home, Day 2 Edition
This post is part of an ongoing tale of my trip back home to Mississippi to visit my family. To start the story at the beginning, begin reading from October 30, 2007.
Oh yeah. I'm doing it. Continuing the story of my trip home
and
combining it with a Friday Shuffle. With no net!
Going 24, 25 hours straight without sleep is what makes me fall into be and go immediately to sleep. Jet lag is what makes me wake up at 4:00am wide awake.
It was still too early for me to call B - he always calls me back because it's cheaper that way but I didn't want to have the phone wake up everyone else in the house. Instead I grabbed my knitting and worked a few rows before going back to bed. I finally gave in to my scrambled inner clock and called B a few hours later. B reported that he was fine but his mom and Gerd were getting on his nerves a little. Great! Only 17 days left, sweetie!
Most of my morning was spent flipping through the TV channels amazed at how many more prescription drug commercials there are and then getting myself all washed and fluffed and ready to go out into public. The afternoon would be taken up with picking my nephew, Sam, up from school, getting him in his tuxedo, getting him to the homecoming parade and then getting a good spot from where to watch it. But there was one important thing to do first.
Sister: I'm starved. Wanna go to Sonic before we pick up Sam?
Me: What took you so long to ask? I've been in the US for nearly 24 hours now. I'm well overdue for a bacon cheeseburger and tater tots.
My sister did not eat all her tater tots.
She threw away tater tots!
I'm sure that must be breaking some sort of tasty fried nuggets of compressed bits of potato laws. I did, however, instill a bit of guilt in her. I told her that she should imagine me back in Germany, totless, when she gets the urge to to waste perfect good tater tots.
I am my mother's daughter.
Sam had been selected to be in the homecoming parade as a "doorman". Each of the clubs in school selects a "sweetheart" and the club then chooses a theme and decorates a convertible car to fit the theme. The sweetheart then chooses a driver and a doorman, whose job it is to...well...sit in the passenger seat. One presumes that he mans the door for the sweetheart but as one doesn't actually ever see the sweetheart get in or out of the convertible I can't verify that this is true. Anyway, Sam was the doorman for the sweetheart for the drama club and the theme was
The Phantom of the Opera
. The driver and Sam would be donning tuxedos and Sam would be wearing a white mask over his eyes.
After picking up Sam and his rented tuxedo we headed over to The Plantation so he could get dressed in my mother's room. He'd never worn a tuxedo before and the studs and cummerbund had him completely perplexed but finally he emerged from the bathroom to utter "Bond. James Bond.".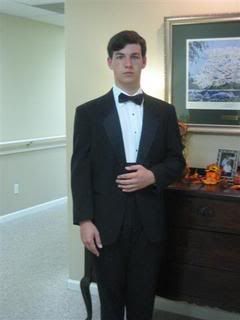 I have to say he did look pretty dashing.
That smile is the reason that boy has me wrapped around his little finger.
After getting my mother hustled into the car we dropped Sam off to where the parade would start and then met my Aunt Cora, my BIL, his daughter, her husband and her two boys, one of which is 6 months younger and a grade behind Sam. I always wonder if he refers to Sam to his friends as his uncle.
We got a great spot along the street from which to watch the parade and as we were waiting for it to begin I heard someone call out loudly "There she is! There's the queen and she's on her throne.". It turned out to be the assistant county prosecutor who also happens to attend the same church as my family and he knows exactly how to charm my mother. Just refer to her as a queen, fawn over her a bit, and she's yours for life.
And then it started:
Sorry they're a little dark. The sun was setting behind us.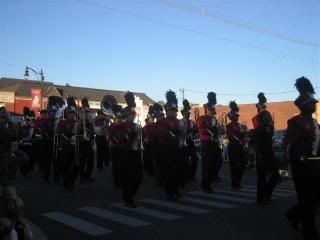 There were floats from each of the classes: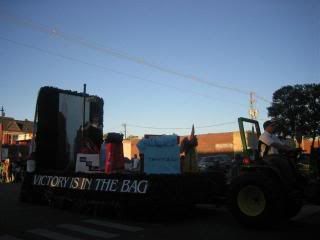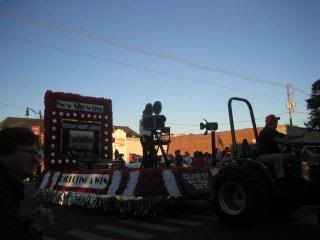 And the homecoming queen: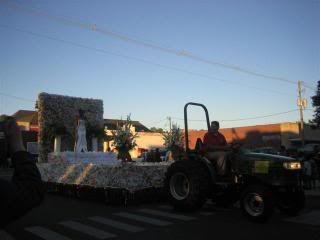 And the highlight to me was Sam, the doorman: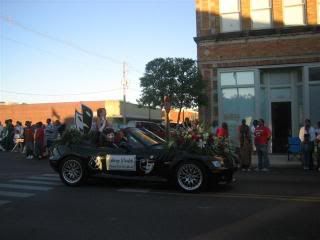 I loved that parade. I loved seeing the town turn out to see it - folks of every stripe were there. I loved seeing how the kids put so much effort into making their floats and cars look so special. I loved seeing the sweethearts and princess and queen smile wave, so excited to be there, and how the crowd along the street would wave back and applaud for them.
I was so happy to have picked this particular time to make a trip home. There's so much in the lives of my family that I miss and being able to be there on a particularly fun day for Sam and being able to share it with folks I love so much was wonderful. It made me realize that I often miss living in the US more than I like to let on but I'm fortunate in that I have two homes - one in Mississippi and one in Germany. And they're both important to me.
Bixente the iPod has been on vacation for the past month - time for that guy to get back to work and to get to shuffling.
Tall Cool One - Robert Plant
I Saw Her Standing There - The Beatles
Thunder Road - Bruce Springsteen
A Place Called Home - P. J. Harvey
Gracie - Ben Folds
The Pretender - Foo Fighters
The Diary of Jane - Breaking Benjamin
Tuxedo Junction - Glenn Miller Orchestra
Let's Go Crazy - Prince
Tennessee Flat Top Box - Rosanne Cash
Tomorrow: Day 3! A trip to Tupelo, sushi avoided and the homecoming dance!
Labels: Friday Shuffle, hometown adventures, NaBloPoMo