Friday Shuffle - I Remember You Edition
It was a nice surprise to receive an email the other day with the subject line "Do you remember Elaine [insert last name here]?". It seemed slightly silly for her to ask me if I remembered her since we became friends when we were ten years old and went to school together until we graduated but if I were writing the same email to her then I would have used the same subject line. 'Cause, you know, I guess you never really know.
Elaine and I haven't seen one another in about 25 years. We had some brief email contact about 7 or 8 years ago but that's pretty much been it for us. Still she remembered that I don't live all that far from Berlin and since she'll be traveling there in early February she asked me if perhaps we could get together while she's here.
I'm very excited by this. I haven't seen someone else that I went to school with since 1998 and I just don't keep up with any of them. And yet I talk about these people all the time. B and I grew up in obviously different ways and we can entertain one another for hours with stories from our school days. And since I was pretty good friends with Elaine during that time she figures in quite a few of these stories.
Remember when I talked about my singing days in elementary school?
Elaine was there for that. She's seen me wear a prayer shawl and a beard! She remembers me before I had boobs and pierced ears. She remembers me before I had to wear glasses. She knew me before I could drive a car or do algebra. And when I was stopped by the police and threatened with arrest for trespassing on school property the night before graduating from high school, who was in my back seat? Elaine!
Elaine remembers me when I looked like this: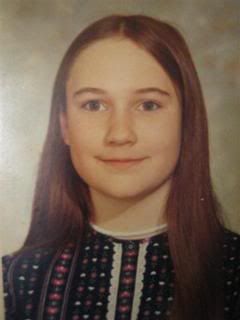 and when I looked like this: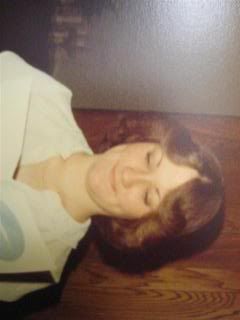 and this: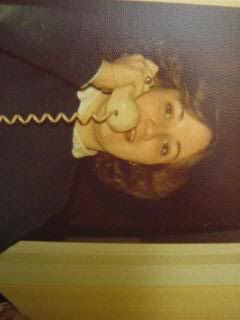 and this: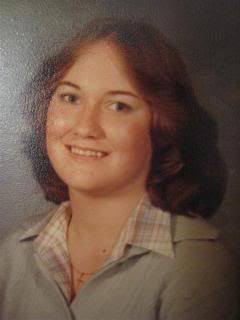 and often when I see certain movies or hear certain songs, I think of her because she was there with me when I first saw or heard them.
Years ago that wouldn't seem all that important to me - having someone out there who remembers my youth - but as I get older it does. Tomorrow is my birthday and as I turn 46 it seems fitting for me to again be in contact with someone who remembers the same things as me - high school dances and football games and chemistry class and slumber parties. There's someone out there that remembers me when my ass wasn't as big and gravity didn't play such dirty tricks on me and gray hair wasn't being battled by my hairdresser. Someone who knew me when I was innocent and loved watching The Flintstones and I hadn't yet started shaving my legs. Someone who can testify that this girl really did once exist because she was there with her.
Since we're going to reminisce, let's let Bixente the iPod dig into my 70s music folder and see what he can shuffle up.
Lonesome Loser - Little River Band

ABC - The Jackson 5
Jungle Boogie - Kool & the Gang

Smokin' - Boston
The Things We Do For Love - 10cc
Jungle Love - Steve Miller Band
Free Bird - Lynyrd Skynyrd (That happens to have been our senior class song.)
Walk This Way - Aerosmith
Josie - Steely Dan
Show Me The Way - Peter Frampton

Labels: Friday Shuffle, memories