Friday Shuffle - Needed Treats Edition
I am a creature of habit and some habits are unbreakable. Since I was a child I've taken comfort in chocolate and little trinket-type toys. One or the other is generally a sure-fire way to lure me out of a funk. If I can have them together, so much the better.
Today was one of those touch-it-an-it-turns-to-crap days so I was rather delighted when, while reorganizing my pantry, I came across some
Kinder Surprise Eggs
that I'd purchased about six weeks ago, put away and promptly forgot about. Actually they're Kinder Joy eggs because Kinder Joy is what's sold here once warm weather sets in. Chocolate and toys in one fell swoop - yay! I could feel my mood lightening already.
And here's what was in two of the eggs. As ever, roll your cursor over the photo to make it change.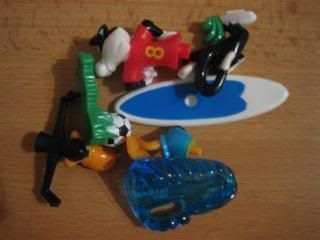 Chocolate, toys
and
Daffy and Sylvester. The third thing that's guaranteed to cheer me up.
The fourth thing that cheers me up? Bixente the iPod. Let's shuffle.
Captain Jack - Billy Joel
At Seventeen - Janis Ian
One And The Same - Audioslave
Summers End - Foo Fighters
Take Me To The Pilot - Elton John
Shoot The Poets - The Cribs
Cape Cod Kwassa Kwassa - Vampire Weekend
Hello In There - Bette Midler
Photograph - Ringo Starr
Raise The Barn - Keith Urban

Labels: food, Friday Shuffle