Here. Take It Because It's All I Got.
All I have to offer are the mental leftovers of my mind so take these crumbs and make your daily blogging meal out of them.
My sister called this evening as I was just sitting down to supper to tell me that my mother is settled into her final room at the assisted care center and is doing fine. So far her only complaint is that she's been a little bored by not having a telephone connection yet and that she doesn't get to choose her own food. That's the whole idea, Mama! They choose the food so that you don't make meals out of bell peppers and marshmallows!
Our friend, Kirsten, came over this afternoon for a visit. Kirsten was B's first girlfriend back when they were teenagers and they've remained friends over the many years. Few things are more entertaining to me than getting Kirsten to tell me old stories of the teenage B. He, however, doesn't find it quite as amusing as I do when the time Kirsten talked him into putting on mascara and lipstick is mentioned. She claims she was merely trying to see what he'd look like done up glam rock style.

I don't know what in the hell I've done but I don't have one pair of clean socks. Not a one. Clean underclothes, clean shirts, clean jeans, no clean socks. I think I'm on the verge of turning into one of those lazy bachelors who runs out of clean underwear and goes out to buy new instead of washing them.
And speaking of socks, here's the pair I'm currently knitting - the leg anyway: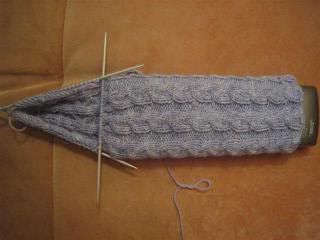 Maybe if I knit really, really fast I can finish them to wear tomorrow. Else I'm headed up the street sans socks to buy some.