All Together Now

Language Week, Day Three. I'll give you a paragraph of German.
Ich bin eine dieser fanatischen Personen, die es nicht aushalten können, wenn sich die verschiedenen Lebensmittel auf dem Teller gegenseitig berühren. Einige Lebensmittel können sich berühren. Es macht mich nicht verrückt, wenn sich mein Ruhrei und der Speck berührt, aber es werde mich verrückt machen, wenn sich der Speck und der Ahornsirup berühren. Ich esse Gemüse von verschiedenen Schüsseln, damit sich zum Beispiel das Wasser von meinen Spinat nicht mit dem Hünchen berührt. Pommes Frites dürfen nichts anderes berühren, wie zum Beispiel Soße oder ähnliches. Ketchup und Majo mussen immer getrent sein. Ich esse Wurst und Kartoffelsalat von verschiedenen Tellern. Wenn der Kartoffelsalat die Wurst berührt odor den Ketchup, dann wurde mein Kopf implodieren wie die Luke bei
Lost.
Translation:
I'm one of those fanatical people who can't stand it if their food touches on the plate. Some foods can touch. I won't go crazy if my scrambled eggs touches the bacon but I would go nuts if the syrup from my pancakes touched the bacon. I eat vegetables in separate bowls to prevent something terrible happening like the water from my spinach touching my chicken. French fries have to be kept free of any touching of food or sauces. Ketchup and mayonnaise has to be separate for French fry dipping. If I'm eating wurst and potato salad they have to be on separate little plates because if the potato salad touches the wurst or the ketchup touches the potato salad my head will cave in like the hatch implosion on
Lost
.
And yet this was my supper tonight: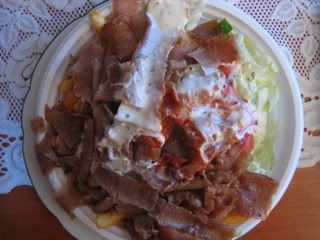 That's a
Döner Teller
- essentially the ingredients of a
Döner Kebap
without the bread and with French fries thrown in as well. And it's all on the same plate. Slices of lamb. Salad comprising of lettuce, red cabbage, cucumbers, tomatoes and corn. The afore mentioned fries. And it's all slathered with tzatziki sauce and some sort of red steak sauce stuff.
And it's all touching!
What's even worse, I fork it all up - meat, fries, salad, sauces all together - and shove it into my mouth. Mingling. Foods that normally should not only be on separate plates but you'd be lucky if I let them be on the same table together and yet I happily and greedily gobble them down in that Döner-y mishmash, all the while nearly making the food-gasm moaning noise as my eyes roll to the back of my head.
Maybe it has something to do with me being an American in Germany eating food made by Turks. I'm making my mouth into a sort of United Nations.
Labels: language week, quirks