Here. Look at some knitting.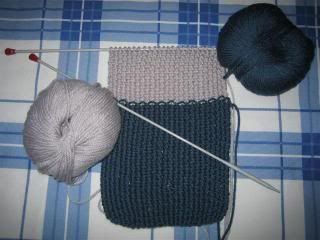 Cause I haven't made you look at any in a while.
Cashmerino. Silver gray and teal cashmerino. Say it with me. Caaaashmerino. Sounds all snuggly and soft and luxurious, doesn't it? Of course it does. It's a blend of merino wool and cashmere so it all but screams "Come snuggle your face in me and sigh deeply!".
This yummy yarn was sent to me by my sweet friend, Lorrie, who, despite not knowing a damn thing about knitting, sure knows how to pick out yarn. She picked this one because it's called...say it with me like you're crooning to a lover... cashmerino. Even a non-knitter like Lorrie was lured in by its siren song. It's the
Loreley
of yarn names.
It's lovely stuff. Knits up like a dream. I'm not using a pattern - just 25 stitches on a 5mm needle in moss stitch, 40 row blocks of each color until I either run out of yarn or it's the length I wish it to be. I'll fringe it if I have enough yarn.
And as it's silver gray and teal I'm all set to stay warm should I find myself at a
Philadelphia Eagles
football game.