Socktoberfest Stuff
Oh you know I can't go too long before I start talking about handknitted footware! I'd disappoint y'all too much if I did that.
Okay. If you're not a knitty type you're excused from reading. Scroll down and marvel my Friday Shuffle some more.
Some questions from the
Socktoberfest knitalong
:
When did you start making socks? Did you teach yourself or were you taught by a friend or relative? or in a class?
I knit my first pair of socks just a couple months ago in July. With the help of
this book
and with the generous advice of other sock knitters I was able get over my sock knitting phobia and teach myself how to do it. Some of y'all are regretting that move.
What was your first pair? How have they "held up" over time?
My first pair was just a basic pair of socks - 2 inch 2x2 rib cuff and stockinette stitch leg and foot knit on 3mm double pointed needles with Regia jacquard 4-ply sock yarn. Oh they're holding up alright. They'll probably hold up forever since I would never wear them. They're souvenir socks that I'll always keep because they were my first.
What would you have done differently?
Well I wouldn't have knitted them on those 3mm needles - those socks are huge! They look like something that should be hanging on the fireplace come December 24. I also know better about picking up the heel stitches and closing up those big ass gaping holes around the gussett. You can stick your little finger through some of those holes in that pair of socks.
What yarns have you particularly enjoyed?
Regia sock yarn is always nice to knit up. Doesn't get all splitty and annoying and the patterns on the self striping stuff is terrific. I have knit two pair from 100% handpainted merino wool from
Sunshine Yarns
. That stuff is a joy to knit with. Easy on your hands and the yarn makes the finished socks just beautiful. See?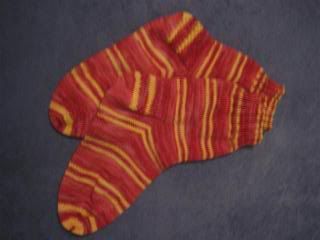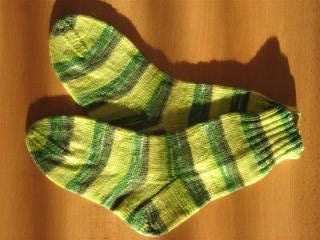 I've currently knitting with Lana Grossa Cotton Spirit and that's very nice. Very soft easy to knit.
Do you like to crochet your socks? or knit them on DPNs, 2 circulars, or using the Magic Loop method?
I knit my socks as I can't do more with a crochet hook than pick up dropped stitches. I have knit all of my completed socks on double pointed needles and currently I'm knitting my first sock on two circulars. I have to say that while I liked it at first, after I picked up the heel stitches and started on the gusset I started to not like it so well. I don't like doing the decreases in the middle of the row and they're not symetrical. I have attempted to learn Magic Loop but so far it's about as effective for me as eating lo mein with one chopstick.
Which kind of heel do you prefer? (flap? or short-row?)
All of my heels have been flap heels and with the exception of the first two pair of socks I knit, I always do an eye of partridge heel (or as my husband calls it, the "Partridge Family Heel"). I'd like to learn to knit a short row heel as I really don't like picking up heel stitches. That's the worst part of sock knitting for me.
How many pairs have you made?
So far I've completed five pairs of socks and I'm almost done with the first sock of another pair. And like most sock knitters, I'm itching to cast on for another pair but I'm determined to finish this pair on circulars first.
Questions over. You non-knitters can open your eyes now. There now. That didn't hurt too much, did it?