Points of Nothing
Poppy's
been doing a few bulleted lists as of late and as I'm in a bits-and-pieces sort of mood myself I'm taking a cue from her. Don't bother connecting the dots as there will be no cute bunny picture resulting from it.
Yesterday found B and I going out in the afternoon with Laura and her husband. They swooped in and within moments both had a hold of B and had him in his wheelchair like they did it every day of the world. Actually Laura has put people in their wheelchairs lots since she's a nurse but I was still amazed at how well they got him out of bed and in his chair. I felt a little bad that all I really did was look at them in amazement but they insisted on doing it. I'm guessing they felt as though I'm stuck picking him up myself all the time so they may as well give me a break. Yay! We spent the remainder of the afternoon at our favorite outdoor cafe (complete with the owner coming out to personally greet us - how's that for looking all popular with guests?) and then they came back to our apartment and while Laura and I knitted, the guys spent a few hours getting the security set up on our new wireless internet connection and then I ordered some supper to be delivered (how's that for looking all too-lazy-to-cook with guests?). All in all a great day with very lovely people.
Ginnie's coming to visit me tomorrow for the day. I'm feeling so very popular and in demand these days. I go years without any visitors from the States and the next thing you know I've gotten three in a year... touch me! We're going to be doing the touristy sort of thing with some ladies luncheoning tossed in as well.
We're having freakishly good weather here for September. Freakishly. So freakishly good that I'm afraid that come winter we'll have to pay for it with pissy ice coated days. Think I whined in July when it was hot? That ain't nuttin' compared to how I whine for pissy ice coated days. You have been warned.
Belinda is sending me some yarn that she dyed. Hand painted yarn custom made for me. Dyed it knowing it was for me. I wonder if that makes it easier or harder for her? She's dying lots of pretty yarns these days in some great blends and weights so check her out if you want some - she'll be glad to sell it to you!
While grocery shopping yesterday I felt all decedent and bought some Nesquick cereal. I don't even eat normal non-sugary cereals so getting this felt very daring. Stuff like this was a huge treat when I was a kid - we were normally stuck with cereals like Grape Nuts and Cheerios. I just ate some and it was very disappointing...rather like eating a burned devil's food cupcake with milk and the stuff bruised the roof of my mouth to boot. Now I'm feeling all Thomas-Wolfe-You-Can't-Go-Home-Again. I must have had such a taste for crap when I was a kid.
I'm not normally a big fan of things like Willow Tree Angels. Not knocking them - they're just something I'd normally resist. Then I saw this in Wernigerode and bought it and now I imagine Susan Lordi's sitting back and saying "Got ya, sucka!". Hey! I was defenseless! The angel is holding a teapot! How am I supposed to walk by that?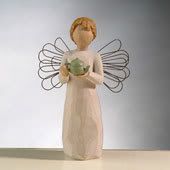 If I come home tomorrow with anything out of the ordinary, I'm blaming Ginnie.