Friday Shuffle - Rock Star Love Edition
I'm not sure how we got onto the following topic, but that's a common thing when I'm chatting with Darling Mollie. We'll start out talking about her job or what I did that day and it'll morph into a discussion about the latest episode of
Lost
that I've seen and then we'll talk about some wacky persons she saw at the grocery store. We'll start at Point A and find ourselves at Point M via Point R before we know it.
Anyway, it was one of these roaming conversations that got us started on talking about what rock stars we thought were hot when we were teenagers. A discussion that left us both wistful and feeling older than we probably should feel. Do you remember your teenage rock star crushes? Care to confess them to me?
Now my first rock star love was John Lennon. Before I even started Kindergarten I wanted to marry him and thought it would be entirely possible to do that. Of course back then I thought all the Beatles lived together in one house in London.
When I was around 11 years old all of my friends were crazy over Donny Osmond or David Cassidy or Bobby Sherman. And while I thought they were good looking I never plastered their images all over my bedroom. They were okay, but not all that great. About the same time I got a pen pal in England. She lived in Gloucester and was crazy about
Sweet
. She would send me their records (you just couldn't get them in the States back then) and sent me her old copies of teen fan magazines and that's when I fell in love with their lead singer,
Brian Connolly
. I was a little in love with the drummer, Mick Tucker, but maybe I just wished I played drums like he could. But Brian had what I loved - he was skinny and blond and I loved his voice...and I still do. My pen pal loved the guitarist, Andy Scott, and she and I would write long letters about how we'd marry them and live next door to each other. Unfortunately Brian drank until he ruined his health and he died ten years ago and Andy Scott is fat now so it's probably best that we didn't live out that dream.
By then I'd discovered that I could have more than one rock star love and when I was 13 years old and attending my first rock concert I fell for my next one. My first concert was Led Zeppelin in 1975 and
Robert Plant
was my new love. I didn't know a lot about sex back then but he looked like living sex right there before me. And he had my requirements - skinny, blond, and a fantastic voice. I love that Robert Plant took my concert virginity.
Peter Frampton
was next. I still had my English pen pal and she was a fan of his going back to his
Humble Pie
days. I had Frampton albums before
Frampton Comes Alive
came out and by the time it did, I adored him. I still remember my life sized Peter Frampton poster and I saw him in concert a couple times but after the
Rolling Stone
article about him by Cameron Crowe that called him the "Pretty Power Rocker", my lust began to fade a little. He was becoming appealing to the wrong crowd and being skinny, blond and with a voice I loved couldn't completely overcome this. And that dreadful
Sgt. Pepper movie
didn't help any either.
I've been listening to The Who for nearly as long as I've been listening to The Beatles but for some reason it took me until I was in my late teens before I developed an enormous crush on
Roger Daltrey
. Why couldn't I see it before? He's skinny! He's blond! And he has what I consider to be the greatest voice in rock. I still think he's fantastic. When I saw The Who in 1979 and ended up losing my hearing for three days afterwards I couldn't have been happier. Hell, I still think Roger Daltrey hot.
So after all these rock stars I loved when I was a teenager in the 70s, is it any wonder I married a guy who spent the 70s looking like this: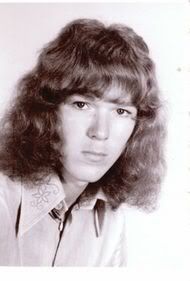 Skinny. Not blond, but he had blondish red hair back then. Can't sing worth toffee though.
Time to shuffle. Not sure if any of my former loves will shuffle up but Bixente the iPod is holding songs from them all.
Apple Of My Eye - Dolores O'Riordan
Shadow Of The Moon - Blackmore's Night
Everyday I Write The Book - Elvis Costello

Ariel - Dean Friedman
Jungle Love - Steve Miller Band
Ready To Run - Dixie Chicks

When I'm Up - Great Big Sea
Veronica - Elvis Costello
Keep The Car Running - Arcade Fire
The Air That I Breathe - The Hollies
None of my boyfriends showed up but two from the fabulous, if not especially attractive, Elvis Costello.
Have a great weekend.
Labels: Friday Shuffle, memories