You've Been Let Off The Hook Long Enough
It's Tuesday and it's time for knitting talk and that's that. Don't be giving me that look. I haven't beat you over the head with knitting stuff in
weeks
. And this time I've actually started a new project. With pictures! And there's a meme at the end too! I'm trying to make this as painless as possible.
First - new sock project. I'm still raving over
Sensational Knitted Socks
and don't know how I lived before I had my own copy. I have eight skeins of this same yarn (
boring
long story as to why I have eight skeins of the same sock yarn - don't ask) and so for this pair of socks I wanted a fun stitch to liven up this solid color yarn but wanted something a bit brainless to knit since lately I'm having to fit in knitting time when I'm watching TV - no time to knit otherwise. For once I'm knitting a pair of socks for myself and doing them in the Woven Stitch - so easy it should be outlawed.
I'm a little farther now - about halfway into the heel flap. Here's a closer shot of the stitch.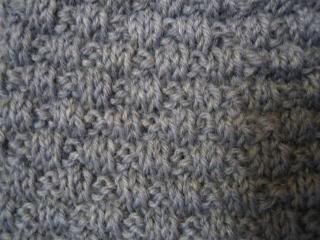 This blue/gray yarn will make these perfect socks to wear with jeans.
Now for the meme. Shamelessly stolen from
Rachel
- fabulous knitter and hand painter of yarns. I hold those who hand paint their own yarn in the same reverence I save for brain surgeons, those who scale the heights of Mt. Everest and anyone who makes a perfect red velvet cake.
If you've done it, write it in bold. If you plan to do it one day, use italics. If you have no plans to do it, write it normally. Any comments from me are in parenthesis.
AfghanI-cord
(I can do it but only in practice. I've never made anything that's needed i-cord.)
Garter stitch
Knitting with metal wire (I wouldn't count it out but I can't envision an metal wire project for me.)
ShawlSockinette stitchSocks - top down
Socks - toe up
(I keep swearing I'm going to make my next pair toe up.)
Knitting with camel yarn
Mittens - cuff up (Don't like to wear them so I won't be knitting them.)
Mittens - tip down
Hat
(A good way to insure I finally have a hat to fit my huge melon of a head.)
Knitting with silk
Moebius band knitting (I'm going to have to know what that is first.)
Participating in a knit-a-long
(But I didn't get much out of the experience.)
Sweater
(If for no other reason than to say I've done it.)
Drop stitch patterns
(Never finished it though)
Knitting with recycled/secondhand yarn
Slip stitch patterns
Knitting with banana fiber yarn
Domino knitting/modular knitting (Don't know what this is either)
Twisted stitch patterns
Knitting with bamboo yarn
Two end knitting (Oh hell no.)
Charity knitting
Knitting with soy yarn
CardiganToy/doll clothing
(Something for Lottie, the sock monkey would be good.)
Knitting with circular needlesBaby items
Knitting with your own handspun yarn (I can't ever see myself becoming a spinner.)
Slippers
Graffiti knitting
Continental knitting
(But I can't purl continental)
Designing knitted garments
(I think almost every knitter dreams of designing at least one thing)
Cable stitch patternsLace patterns
Publishing a knitting book
Scarf
Teaching a child to knit
American/English knitting
Knitting to make money
Buttonholes
Knitting with alpaca
Fair Isle knitting
Norwegian knitting
Dyeing with plant colors
Household items - dishcloths, washcloths, tea cosies, etc.Knitting socks or other small tubular items on two circular needlesOlympic knittingKnitting with someone else's handspun yarnKnitting with double pointed needles
Holiday related knittingTeaching a male how to knit
Bobbles
Knitting for a living (I couldn't stand the pressure to knit without errors.)
Knitting with cotton
Knitting smocking
Dyeing yarn
Steeks
Knitting art
Knitting two socks or other small tubular items on two circular needles simultaneouslyFulling/felting
Knitting with wool
Textured knitting
Kitchener stitch
(I looooove Kitchener stitch)
Purses/bags
Knitting with beads
Swatching
Long tail cast on
Entrelac
Knitting and purling backwards
Machine knitting
Knitting with self patterning, self striping, variegating yarn
Stuffed toys
Knitting with cashmere
Darning
Jewelry
Knitting with synthetic yarn
Writing a patternGlovesIntarsiaKnitting with linen
Knitting for preemies
Tubular knitting
Freeform knitting
Short rows
Cuffs/fingerless mitts/armwarmers
Pillows
Knitting a pattern from an online knitting magazine
Rug
Knitting on a loom
Thrummed knitting
Knitting a gift
Knitting for pets
Shrug/bolero/poncho
Knitting with dog or cat hair
Knitting items for a wedding
Hair accessories
Knitting in public
If you knit and want to swipe this for yourself, feel free. If you don't knit and want to swipe this, that might be even more interesting.