Simple Problem - Simple Solution
You've been off the hook for too long. I haven't
tortured
entertained you with knitting talk in ages! And you've been wanting some, I know.
I'm still in love with sock knitting and, as I've mentioned before, I've challenged myself to knit 15 pairs during 2008. But as in love with sock knitting as I am, I still suffer from an aversion to knitting the second sock of the pair. Sock knitting is a little like being in love. When you knit the first one the pattern is fresh, the yarn is still enticing and seductive and when you finish the last stitch you feel the rush of love for your completed sock. The second sock is a bit like marriage after ten years. You still love it but the rush isn't quite as strong and if you don't watch yourself you'll find yourself lusting over a gorgeous skein of yarn and a flirty new pattern and that second sock will never be finished. With sock knitting you've got to stay focused and true and on your game if you want a completed pair of socks. Either that or you need to start befriending a band of pirates.
Then on
Ravelry
in one of the sock knitting groups to which I belong I read where someone had written that they knit both of their socks at the same time. Knitting two socks at once isn't something new - if you knit them with circular needles that technique lends itself to knitting both socks at once. I, however, knit with double pointed needles if I'm knitting a flap heel and you can only knit one sock at a time with that method. Or so I thought until I read about a woman who always knits both at once - she just uses two sets of the same needles. She casts on, does the cuff for one, knits the cuff for the second, knits some of the leg, knits the same amount on the second (she employs a row counter so she knits the same amount of rows), finishes the leg, does the heel on each, and so on.
Before I read that it had never occurred to me to knit both socks at the same time. Something that simple and it just never entered my head to do things that way. Nothing like completely missing the obvious solution, is there?
And it works brilliantly. I hate knitting cuffs - to me it's the most boring part of the whole sock - and when I had finished both cuffs it was wonderful to know that I wasn't going to experience the satisfaction of finishing my sock and having the second cuff hanging over my head. I'm not very fond of picking up heel stitches for the gusset and getting it finished on both before even moving on to the foot was a great feeling.
Here's what I have finished so far: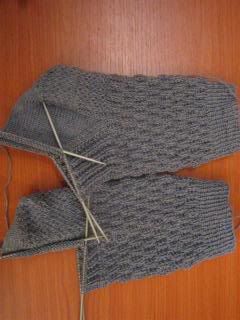 The gusset is complete on the one on the left and 1/3 complete on the sock on the right and I'm still excited about knitting them. No thrill of finishing one and the dread of starting it all over again with much less satisfaction to be gained upon its completion. By the time I finish one sock I'll be within hours of finishing the second.
Pirates of the world, take notice. You're shit out of luck. Go elsewhere for your supply of single socks - there will be none to be found here.
Labels: knitting