Friday Shuffle - Pastel Sweets Edition
I finished these last weekend and waited
until I had nothing to write
for just the right moment to show them to you.
Hey look! It's the right moment!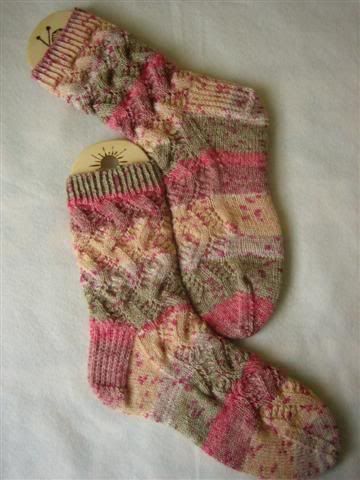 Yarny talk:
Pattern:
Spring Forward
Needles: 2.5mm double pointed needles
Yarn: Austermann Step
Colorway: 0010
I've been trying to connect my July blog posts to the subject of food so what do these hand knit socks have to do with food? The muted, semi-pastel colors of the socks remind me of the colors you find in a roll of
Necco Wafers
. I never was a fan of Necco Wafers (few things are worse than the black licorice flavored ones) but at one time they were quite useful when my friends and I found that we could trip the toll booths around Richmond by flipping in a Necco Wafer instead of an actual coin.
Let's shuffle.
Someone Like You - I Am Kloot
Mrs. Robinson - The Lemonheads
Call It Love - Poco

This Is How I Know - Ron Sexsmith
Wooden Heart (Muss I Denn) - Elvis Presley
Here Comes The Rain - The Mavericks
All Over You - Live
Your Own Worst Enemy - Bruce Springsteen
Long Cool Woman - The Hollies
Vince The Loveable Stoner - The Fratellis

Labels: food, Friday Shuffle, knitting