Ahhhhh....
That's my sigh of relief. Folks, we have found a new apartment.
Good things about it: It's right downtown on the main street. We'll be about 200 meters from the dead center of the city. Various useful shops in the bottom of the building. I can get yummy things from the Christmas market and get them home to eat them before they even cool off. The building is very quiet and clean. The apartment has brand new flooring but I will put carpet in the three main rooms and leave the vinyl flooring in the hallway and kitchen. The rent is well within our budget. The streetcar stops right in front of the building. Being downtown gives us many more activities to choose from than what's available to us right now. And I believe the greatest thing about this apartment is that there will be no one above us screaming like a banshee as he takes a crap.
Not so good things: The bathroom is teeny. What bathroom furniture I have won't fit so I may just use what I can or I'll buy new. The kitchen is also much smaller than what I have now. I may be able to use 75% of the cabinets that I have now and maybe have to get new countertops to fit the new cabinet arrangement. That's really all I can think of that's truly not good but none of it is so bad that I would even remotely consider staying where we're at. The kitchen will again be very nice but just not as nice as it is now.
Here. Take a peek.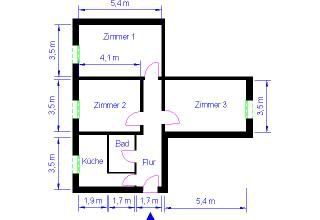 We have to wait for some paperwork to be done by the city and once that's approved then we'll sign the rental contract. In the meantime the apartment is reserved for us.
Y'all pray that I can get this apartment packed up and us moved. I'm not so good at this moving stuff.