Cleaning My Memories
I've made good on my words and have gotten started on getting my apartment tidied up. I like to mix little tasks with larger jobs so after I gave the kitchen a washdown and before I started another load of laundry I decided to clean off the grease and fuzz that gets built up on my refrigerator magnet collection. I'm very
uptight on the verge of being anal
particular about how my magnets are arranged so to assist me in putting them back in their proper places I took a picture of the magnetic board on which I display my collection.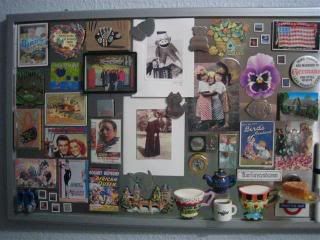 All of them are special to me and I remember where I got every one of them.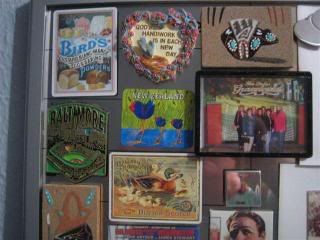 Here you can see my magnet of Oriole Park at Camden Yards in Baltimore. Yes, I am an O's fan...and you keep that snickering to yourself,
Mr. Fab
! Two magnets are of old British adverts, both of which I bought in London. One is a magnet a buddy in New Zealand sent to me and the photo is of me and some of my best friends in the world taken when we visited Graceland together in November, 2004. I treasure the heart shaped magnet for no other reason than it was given to me by my Aunt Cora and there's nothing about her I don't treasure.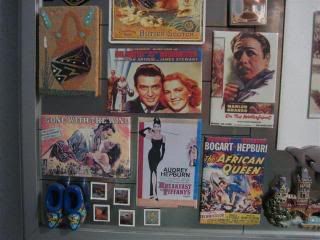 These magnets of old film posters are some of the first magnets I collected. The teensy square ones are miniatures of Van Gogh and Monet paintings and of course I couldn't have visited Amsterdam without bringing home the little blue wooden shoe magnet.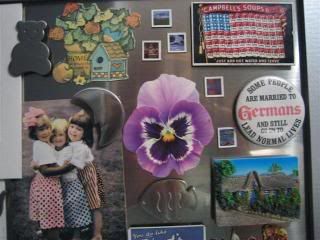 I think of this as my identity corner. The American flag composed of Campbell soup cans and the round one that says "Some people are married to Germans and still go on to lead normal lives" was given to me by friends when I first moved to Germany. The little girls depicted on the card remind me of my dear friends back in America and that even though we're far apart, we're still as close together as these little friends. And the birdhouse magnet? It reminds me that home is indeed where the heart is.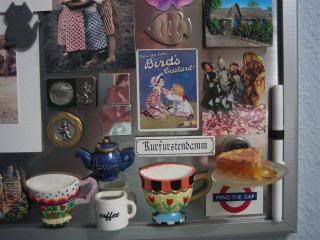 I think of this as my travel corner. The house magnet was bought to me by Wolfgang when he made a trip to Sylt. There are a couple magnets from Berlin, including the sign for the Kurfürstendamm, the first street I ever walked on in Berlin. There's the obligatory Harrod's teapot (along with tea and coffee cups sent to me by friends in the US) and because I'm all about the cheesy stuff in life, a corny "Mind The Gap" magnet from London. The Bird's Custard magnet goes with the other British advert magnets I bought while visiting there and during that trip I bought the peach pie slice magnet. And the Wizard of Oz magnet? They were travelers too.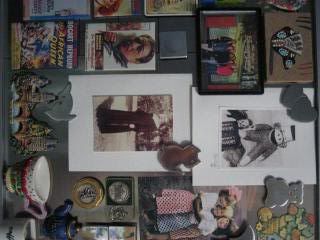 The magnet on the bottom is of the Charles Bridge in Prague, a souvenir from a visit there by my MIL. I love to get quirky, funny cards and my favorites get displayed with my fridge magnet collection.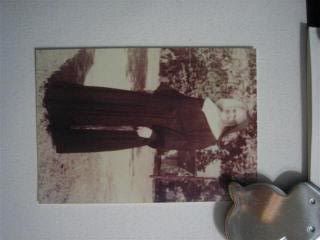 Darling Mollie sent me the nun card. Moll and I have the same sort of humor and we both love this nun. She seems to be an interesting combination of beatific and psychotic.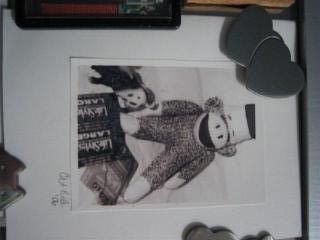 This is my latest favorite card, sent to me by the wonderfully quirky and hilarious
Poppy
. She loves monkeys. I love monkeys. She's actually hung out with my sock monkey, Lottie. But this isn't just a photo of a sock monkey - it's a sock monkey surrounded by condoms. It's perfect.
And now that I'm getting my apartment whipped back into shape I'll be able to uncover the new magnet board I've purchased so I can get the rest of my memories displayed. My reward for being diligent.