So You Want To Learn To Make Goulash
Not the ground beef/macaroni/stewed tomatoes thing that some folks call goulash. This is the sort of goulash you find in Germany.
First you need some meat. Use what you like - pork, beef or a mixture of both. The important thing is that it's tender meat.
I'm using all pork today, about 800 grams - roughly 1 1/2 pounds or so. Meat from the neck and shoulders is best. Cut your meat up into bite-sized chunks.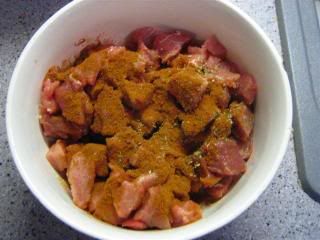 Season your meat with some salt, black pepper, dried marjoram and paprika. Lots of paprika. I like my goulash very spicy so I go heavy on the hot, Hungarian paprika...about a tablespoon or more if I'm going wild. Sometimes I'll practically coat the meat in paprika.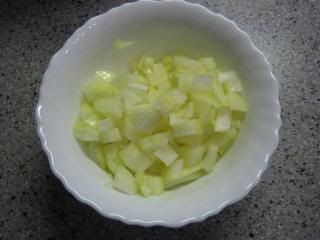 You'll need a chopped medium sized onion as well. Don't worry about finely chopping it - before it's over the onion will have cooked away to virtually nothing. And don't skip the onion either - it's important for tenderizing the meat. Goulash is all about the tender meat. And the paprika.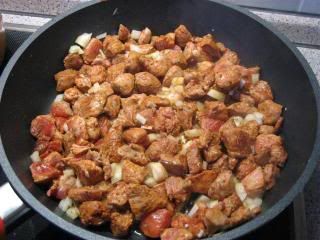 Heat some oil in a large, steep sided skillet or a large pot and brown the meat. When it's about halfway brown, add the onion and stir it around to get the meat all browned.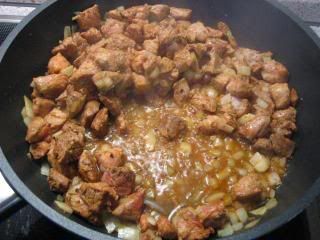 After a while you'll notice that the meat/onion mixture will get very juicy as it's cooking. Knock off so much stirring right now and continue to cook the meat and onion until that juice is nearly gone.
Now here's the part where you can choose how you wish to continue. For the old-fashioned, time honored way, pour water over the meat to cover it about halfway and let it cook nearly away. Pour in the same amount of water again and let it cook down. Do it one more time. Then on the fourth time, add water to completely cover the meat. Now make your sauce. Add about three tablespoons of tomato paste - you choose how much you want to add. Add some more pepper and salt. Add more paprika. Throw in some whole allspice. Add a teaspoon of beef bullion granules. Toss in a bay leaf. Have some leftover roast in the fridge? Chunk it up and throw it in as well. Put some mushrooms in it if you wish. Taste your sauce and adjust it as you please.
Or if you're in a hurry or don't trust your spicing abilities and you're in Germany (or know someone in Germany who can be your dealer), get some of this: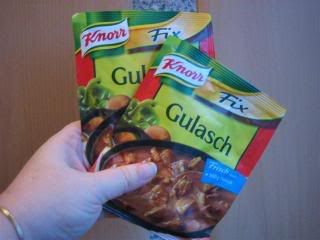 Use two envelopes with 3/4 liter of water, stir well and add to the meat and onions. None of that cooking down, making the sauce part.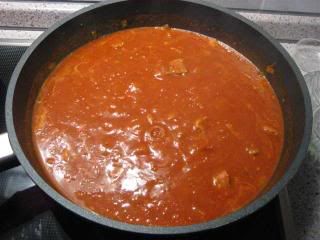 Once you've got your sauce made (or you've added the cheater's sauce that Mr. Knorr has supplied), bring to boil, cover and turn the heat down to low. Allow it all to simmer for about 1 1/2 hours, stirring on occasion. After it's cooked, you'll probably want to thicken the sauce. Use your favorite thickening method like cornstarch or flour stirred in with water or Mondamin sauce thickener, add to the goulash sauce and let it cook another five minutes until the sauce is thickened to how you like it.
Goulash can be served in a variety of ways. Some like it with boiled potatoes. Some like it with Spätzle. I prefer mine with macaroni.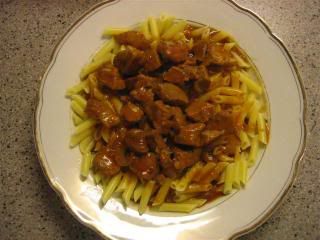 There. Add a salad and supper's ready. And have plenty on hand to drink because all that pepper and paprika is
hot
.
Guten appetit!