Proof That It Can Be Done
In the past
Hilda
has expressed a sense of wonderment bordering on amazement that I use five needles to knit socks. I told her that wasn't the most I could handle - when I knit cables I add a sixth needle. I like to imagine that when Hilda read that her eyes nearly spun in her head.
But look! It's easy!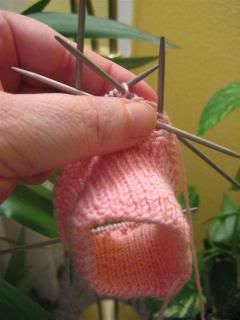 Two needles working on the current row, one needle for the cable, two vertical needles on the sides and one horizontal needle at the bottom. My math skills are bad but even to me that adds up to six. To the uninitiated this looks complicated and even slightly dangerous. To a sock knitter this looks perfectly normal.
And who will be the recipient of this latest sock knitting effort of mine? I don't know. Could be you. Or it could be you. Or back there. Yes, you. Could be yours as well. It's going to be a
Pink Ribbon Sock
knitted from scrumptious Regia Silk yarn - 55% wool, 20% silk, 25% poly fiber and it's up for bid at
Boob-Ha-Ha
with all proceeds going to the
Susan G. Koman Foundation
via the
Breast Cancer 3-Day
. I'm even going to knit it to the length to fit your foot so feel free to bid even if you have long feet.
Hand knit socks not your thing? That's okay. There are other fabulous things for you to bid for. Handbags, pillows, scarves, framed photos, bowls, jams, and a host of other clever, useful and beautiful items. Beautiful stuff to buy and all the money goes to save boobies. That's way more amazing than juggling six knitting needles.
Labels: Boob-Ha-Ha, knitting