Fourth Times a Charm
I've been working on these
Pink Ribbon Socks
for a month now. Normally I should be finished with them and back to
knitting for Darling Mollie
working on another sock project but I have hit snag after snag. First the edge stitches of the pink ribbon panels looked sloppy so I ripped it and started over. Then the cables used for the pink ribbons themselves looked sloppy so I ripped it and started over. Then I had bad luck with the poorly written heel turn instructions so I ripped it and started over.
Were this a regular sock project I'd have set it aside and started knitting something else just to give myself a break. Even the sweet lady who will be receiving this sock because she made a very generous contribution to
Boob-Ha-Ha
told me to take a break. I thought about it even though I'd already cast on for the fourth time and was about a 1/2 inch into the cuff but I decided against it because by then this sock had taken on a life of its own. Developed its own meaning.
I'd been so wound up in getting to the end of the project that I wasn't thinking about the process itself. I wanted to do a good job because the reason why I was knitting the sock in the first place is special but all I could think about was finishing. And while knitting the cuff this time around - and I'll say right now that I hate knitting the cuff...I liken cuff knitting to taxiing on a runway before taking off - you're moving but you're not getting on with the trip yet - I started to really think about the meaning behind this sock.
It's a Pink Ribbon Sock and so it represents breast cancer and the efforts to raise awareness and find a cure for it. The sock is being knit for fund raising purposes -
Wendy's
doing the
Breast Cancer 3-Day
for the
Susan G. Komen Foundation
. Is Wendy going to wimp out on her walk when it gets tough and irritating? No. And what about the people who have breast cancer - or any cancer for that matter? Don't they pursue their treatments and put up with some very frustrating moments while trying to rid themselves of cancer? They don't just quit because they're having a hard time. They want to reach the end but they also know they need to concentrate and remember the meaning of their efforts to get to the end.
So this sock has taken on a new focus for me. It's not just about getting to the end but it's about the process too. And even when things get tricky or I break into a sweat because one of these tiny woolen loops has broken free of its needle while I'm trying to purl off the cable needle, I'm going to remember Wendy getting tired on her walk and still continuing and I'm going to remember every person I know with cancer or who ever had cancer and kept going even when their treatments were so hard on them. I've changed my attitude and it's made all the difference in the world.
Here's the sock as of this evening. I haven't had time to knit so far today so I've completed only one pink ribbon pattern repeat and about 1/3 of the second.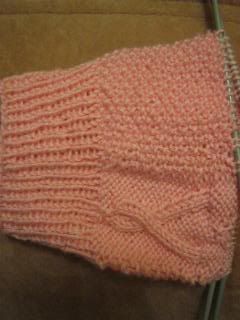 It's so much better than my previous three attempts. The cables are just right and the stitches at the needle changes look great. I'm enjoying this so much more than I have been and I'm getting better results.
Years ago
Poppy
sent me a hilarious card of a dumpy woman from the 50s holding a cigarette and who had a priceless look on her face. One of those "I am absolutely going to stomp a mud hole in you." looks. She looked amazingly like my Uncle Milton's wife - the drunk one that creeped me out a lot. Anyway the caption on the card read "Aunt Bunny says 'Adjust your attitude or I'll fix your ass!'".
All I needed was an Aunt Bunny moment.
Labels: knitting