His Descent Into Hell
Raise your hand if you hate going to the dentist!
I'm betting that if you didn't raise your hand, the person reading this just before or just after you did. As for me, while I don't relish a visit to the dentist, I don't really hate it either. I've had a lot of dental work done over the past 30 years and all the teeth I've had capped, crowned, root canaled, filled or just plain pulled out haven't made me fear the dentist.
My husband, on the other hand, is terrified of the dentist. His teeth aren't all
that
bad but if he'd not spent so many years actively avoiding the dentist they'd be much nicer. When I first moved to Germany - probably 4 or 5 months after arriving - B went to the dentist after I'd forced him into it. He had a tooth going bad and sure enough it had to be pulled. He had it done and never went back...and that was 9 years ago. I'd try to get him to go and usually he'd say "I will when the weather is warmer." and when it would be summer he'd put it off saying "I don't want to spend a day outside going to the dentist." When winter would roll around he'd claim it was too cold to go outside and he'd make an appointment when the weather got warmer.
This worked rather effectively until we moved. Now we live in the same building where three dentists are located. The apartments and the businesses, while being in the same building, have separate entrances so B does actually have to go outside to get to the office but since he would literally have to go about 6 feet unprotected from the elements his excuse to wait for perfect weather is gone. B knew it was only a matter of time before he would break down and make an appointment. Last week the appointment was made and he's been in a lather ever since. Constant worry and fright. "What if she wants to drill?" So she'll drill! "What if she won't give me a shot?" She'll give you a shot before drilling. "What if it still hurts?" Then tell her to stop drilling and give you another shot.
Honestly! This is the man who, after falling into a swimming pool in 1 meter of water, landing on his head and damaging his spinal cord at the C-5 level had doctors drilling screws directly into his skull with no anesthesia so they could rig up something to pull his spine straight. That he thinks wasn't so bad - except for the sound - but getting his teeth cleaned and checked was putting him on the verge of an anxiety attack.
But today was the fateful day. And I brought the camera. What? You didn't think I was going to miss recording for posterity this monumental event, did you? Who knows when it could happen again!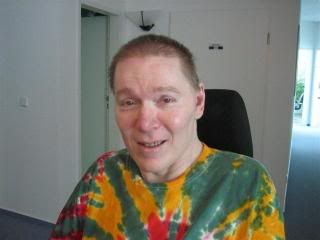 B in the waiting room. This is the face he made when I told him to relax a little bit. He actually looked more panicked before I told him to relax but I thought if I took a picture of him in full blown shit hemorrhage panic y'all might call the authorities on me and report me for torture.
Waiting for the dentist to arrive. Gerd and I got B out of his wheelchair and into the examination chair and I as I drove B's wheelchair back out into the hallway I impressed everyone with my mad wheelchair driving skillz.
"Hmmmm....I wonder if I can fling myself from the window and land in that fountain that's just below the window. Maybe not. I've had some problems in the past from bad landings in water."
The dentist gets to work.
"Hmmm....Herr G, you seem to have enough tartar on your teeth to rebuild the Berlin Wall. I may need to use a sandblaster. Or dynamite."
"Damn. I'm going to have to stand up to wrench this crap off his teeth!"
It was as this point that the sound of the
instruments of torture
tartar removing blaster thingy was beginning to wear on my nerves so I began reading the book I'd brought with me, lifting my eyes occasionally to check how B was doing. At first his eyes showed nothing but sheer terror but after a while he seemed to relax more and more.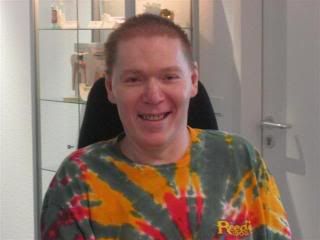 "All finished! Can I now get a prize from the Treasure Chest?"
All around B did very well. And unfortunately he needs to make a few more trips back. He's got 7 or 8 cavities that need to be filled - only a few at a time can be done because he's unable to sit in that exam chair for more than maybe 45 minutes - and he's going to need to have a broken molar pulled. The dentist assured him that she would always give him Novocaine before any drilling or tooth yanking and that made him feel better. She did, however, get all that tartar build up removed and his teeth look so much better now.
And you know he's just so proud of himself for having done it. I'm proud of him too.
Labels: family