Linky Love
Marsha
and I have been reading each other's blogs for...what? A year and a half? Two years? I can't really remember because I've read so much about her family and her life that it seems like I've always known her. Funny how blogs - any steady online connection, really - can forge such lovely friendships.
Anyway, Marsha has nominated me for a little award: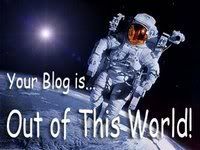 Marsha likes how I write and in turn I want to reward and give a little linky love to some folks I read regularly and who have recently written stuff that I dug the mostest. My Blogroll is full of great people who write fun, interesting, amusing, thought provoking blogs and I urge you to not just check out these folks listed here but the others on my Blogroll.
~ You knew
Poppy
would make the list, didn't you? Well Poppy
is
a good friend of mine. And Poppy does write in a way that combines the most frustrating parts of life with the most joyous and liberally sprinkles in the humor. And
this recent post
she wrote about seeing Wilco in concert is classic Poppy. I know the connection she has with music and this post made me feel it for myself.
~ The Muslim world is currently celebrating Ramadan and
UmmFarouq
has written a blog entry about
fasting during Ramadan and its effect on her spirituality
. It was a pleasure for me to read and I told her so. Another thing I love about blogging is the ability to hear voices of those we may not normally come across, be they people living far from us or people who have a culture that doesn't normally come into contact with our own, and we learn about how they see the world. Differing cultures don't seem so strange when we know those who live in those cultures.
~ Know what I love about
Lisa
? She's a work in progress. She's not afraid to say she's striving to be a better person and her honesty, I believe, helps her readers to want to become better as well. She can also tell a
very funny story
as this blog entry can attest.
~
This
is why I wish I lived next door to
Belinda
. The conversations in her home between her and her husband or her and her daughter or all three together break me up no end.
~
Carol
love to take pictures and her blog always has plenty of them. Pictures of her home, her pets, her unbelievably gorgeous children - she's always got great stuff to see. Currently Carol is visiting Germany right now and
if this doesn't make you want to hop on a plane to Germany
, likely nothing will.
~
The Big Finn
has a life that many would envy. He lives in Switzerland, he travels a lot, he has an amazing ability to find the best food and beverages no matter where he goes (or at least he makes it look like he knows what he's doing) and in general thoroughly enjoys his life.
This post
is proof that he's been living in Europe for quite a few years. Europeans walking to get somewhere? Completely normal. In America? Who's the freak with the doughnut out there?
These are some very recent posts that I particularly enjoyed but I enjoy all of the folks that are on my regular blog reading list. Give them a visit and get to know some other enjoyable writers.
Labels: blogger awards, links