Slogging Through
I'm about a third finished with the leg of the second of the
Pink Ribbon socks
. I'd taken a break to do some quick knitting for another charity project and now that it's finished I can get the socks complete and sent off to the happy recipient.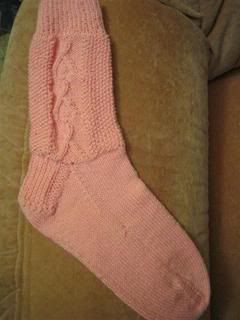 The completed first sock.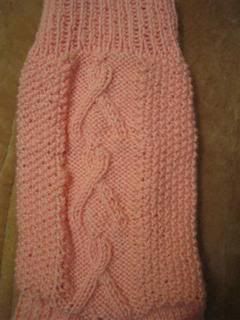 The leg detail.
I'd mentioned before
that my change in perspective and attitude was letting me enjoy the knitting process of this project more and it's holding true with this second sock. Normally I am bad to have Second Sock Syndrome - the inability to knit the second sock of a pair because you're so anxious to start a new pair - but I'm enjoying this second sock even more than the first. I think it also help that the sweet lady who won these socks had itty bitty feet. You take your joy where you can find it.
I don't think I'll have them finished before the weekend but if things work out well perhaps they'll be done this time next week. And then I don't want to see any solid pink yarn for a while.
Stripes. I need to knit something with stripes.
Labels: Boob-Ha-Ha, knitting