Friday Shuffle - Lottie Gets Around Edition
As you may remember when I told y'all about my trip to America last October I left my sock monkey,
Lottie
, with my friend, Ash. Lottie has been off visiting without be before - a couple years ago she spent the summer with my friend,
Lisa
where she did things like go shopping: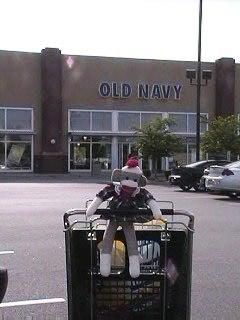 and go on picnics: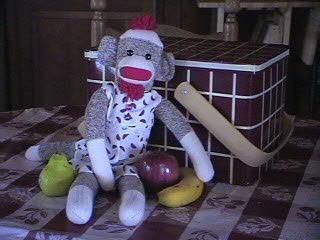 It only took one evening of hanging out with Lottie:
for Ash to know she wanted to take Lottie back with her to Carolina for a visit. Ash lives on a horse ranch and travels a lot so Lottie was anxious to expand her horizons and go home with Ash. Little did Lottie know how far her horizons would be expanded.
Helmsley, Ash's Cavalier King Charles Spaniel, and Lottie became fast friends immediately. Lottie has such a knack for making friends very quickly and those who meet her say they feel as if they've know her all their lives.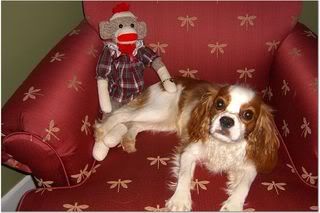 Lottie's a city girl when she's here in Germany but there in Carolina with Ash she's learning the ways of country living. Lottie was anxious to learn to ride a horse and learning to sit a western saddle was easy for her.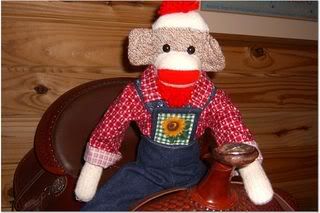 When it was time to ride for real, Lottie was, of course, a natural.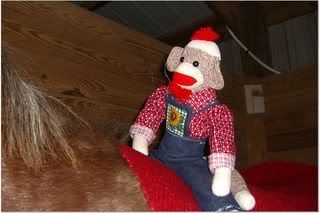 Lottie's got her own horse now.
But the biggest adventure of Lottie's visit with Ash, would take them down to Florida. As his gift to her for Christmas, Ash's husband gave to her an opportunity to ride
G-Force One
® - the airplane that recreates weightless flight. Here's Ash on her flight (she's on the far left):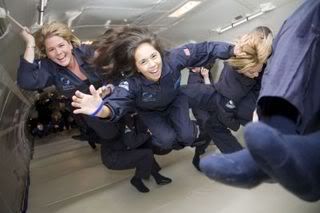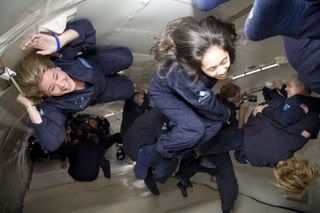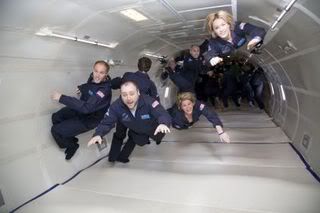 And you have to know that Lottie wasn't going to miss out on this experience: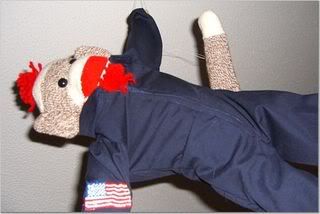 Note that Lottie's got a little flight suit, just like the rest of 'em! Lottie reported that it was an experience like no other and she'll remember forever the feeling of being weightless and then coming back down to the gravity of Earth. She was free for just a minute but it was a minute like no other.

I can't imagine what other adventures Lottie's going to have but I have a feeling it'll be hard topping weightless flight.

Let's shuffle:

Kid Gloves - Voxtrot
Mary Jane's Last Dance - Tom Petty
Dumas Walker - Kentucky Headhunters
Anarchy in the UK - The Sex Pistols
You Wear It Well - Rod Stewart
Everytime I Think Of You - The Babys
Something To Talk About - Badly Drawn Boy
Van Lear Rose - Loretta Lynn
Burning Love - Elvis Presley
Have You Seen Your Mother, Baby, Standing in the Shadow? - Rolling Stones
Have your own big adventures this weekend.
Labels: Friday Shuffle, Lottie