Look who's home!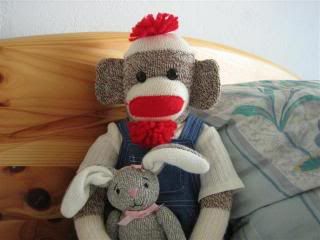 My
Lottie
has made it back home after
summering
in Illinois with my darling friend Lisa. She arrived this morning after a rather quick trip across the ocean. I'm guessing that on her
previous trip
over the Atlantic she'd been able to make friends and connections, especially with those pesky customs agents, and so her return trip was able to go much more smoothly.
Her baby sock bunny, Bernadette, accompanied her back home. They're very close and cherish their ability to confide in one another.
Naturally Lottie was full of stories about her time in the US, especially stories about Lisa's sons. She thinks they're fine fellows and misses them already.
So thank you, Lisa, for showing Lottie a wonderful summer. She adores you and your family and I do as well!