Ho, Ho and Ho
Katy
wanted to see my new Santas. How could I say no?
This one was a spontanious selection. I was passing him by but I like his shape and liked that he was holding the little tree so he made the cut.
This Santa is a tea light holder. I haven't lit him up yet but I imagine he'll look great on my kitchen window sill. There was one similar but with a much broader body that I passed on because I thought he'd take up too much precious window sill display space. I like how is face is a little brown like he's been in the Santa Tanning Bed.
This is the guy I saw in the sales paper that spurred me on to drive to the other end of the city to find and buy him. Look at that silly, roly poly body of his!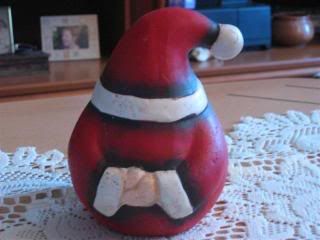 Hands behind his back. Like he's just waiting for the reindeer to get their act together and get hitched up to the sleigh.
I've said that I have reached my Santa purchasing limit for the season but you and I both know that that's crap. If I see a cool Santa that I must have, he's going home with me.