Do It Yourself
B is searching now in ernest for a new computer. We could get mine fixed, of course, but we were planning on him getting a new one anyway within the next few months so mine acting like an ass has only speeded up the process by a few weeks.
Yesterday and most of today have been spent knitting, mostly while lounging on my balcony and considering how much longer I'll wait until I pull up those dead ass geraniums and plant some pansies. When technology gives me its middle finger, I turn to the joy in things handmade.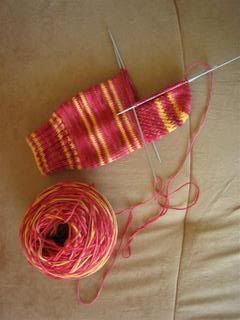 Isn't that pretty? And
this yarn
is some sweet stuff to knit with - I wish I had a dozen hanks of this dreamy yarn. Soft and easy on my hands. My hands that don't let me down like this cranky computer is bound to do.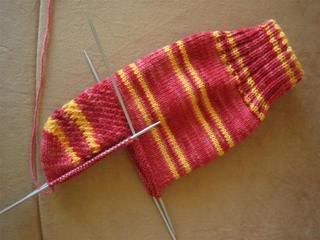 Look at those colors! I love them! I call these my Harry Potter socks because they're Gryffindor colors.
Can't get a computer to make anything this groovy.