Itty Bitty
I credit the mother of a school friend for starting me on my love of miniatures. She had a printer's drawer full of wee bitty things that I just loved to look at and I began my own collection of all things tiny.
When I lived in the US I had an antique printer's drawer to display my collection but I didn't bring it with me to Germany. Instead I have two plain shadow boxes - this is one of them:
Some of my favorites in my collection were purchased at craft and artisan fairs. When I lived in Virginia, autumn was a favorite time for three of my friends and me because we liked to prowl through these fairs, carefully searching through every stall and booth for things we just had to have. I always tried to find new miniatures for my collection such as these:
Susan, Gwen and Heidi were my craft fair friends. We met at work and were very close with one another. From September until Christmas you could find us together on many weekends searching for new items for our homes.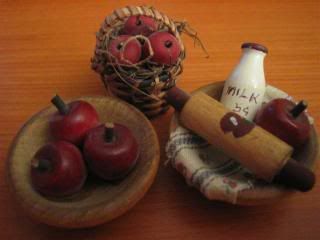 I found all these little apples in Clifton, Virginia. The part of Virginia where I lived was right next to apple country.
I credit Gwen for finding this
Gond With The Wind
pin made from a postage stamp at the craft fair in Manassas, Virginia. She picked it up and admired it but I was the one who collected
Gone With The Wind
stuff and I nabbed it from her. Gwen let me get away with it though. My friends were very good to me.
I found all of these at a fair in Leesburg, Virginia. The tiny brass spittoon just slays me.
Susan, Gwen, Heidi and I would walk around these fairs until we were worn out. We'd search through them and then go back for things we really loved and it wasn't unheard of that we'd all buy one of the same thing. I'm fairly certain that we all had these stoneware candle holders that held these giant 3 foot long tapers that all ended up bending in the heat once summer rolled around. We dubbed them the "penis candles". Don't ask.
These weren't found by me at any craft fair but were gifts to me from Susan. She's got an incredible eye for home decor and can spot the most perfect gifts from a mile away. The miniature milk bottle is my first
Rowe Pottery
piece - I blame Susan for starting me on my Rowe Pottery collection. I am crazy for Rowe Pottery.
Out of my entire collection of miniatures, this is my very favorite piece. It was made by a metal artisan from San Francisco and I bought it at the craft fair in Manassas. I remember that day with my dear friends so clearly. That was a perfect day.
It's a tooth fairy box. The idea is to put a child's tooth in the box for a keepsake.
It's not easy to see, but behind the fairy is a loop so one can wear the tooth fairy box around one's neck on a chain.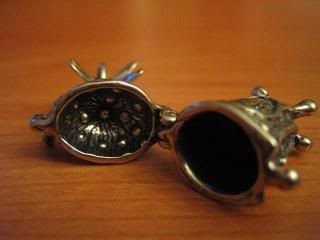 Even the inside of the lid is finished.
By this time of the year the fairs are over and Susan, Gwen, Heidi and I would be turning our focus to shopping for Christmas decorations. We're all big fans of Christmas and we had certain shops that carried unique decorations that we had to visit each year.
I miss my friends all the time but it's this time of year when I miss them most. I love that I have tiny keepsakes tied to big memories.