Monday Kinder Egg Blogging
With magic changing photo! I know y'all dig the magic changing photo.
I've been a little disappointed in the toys I've been receiving lately in my
Kinder Surprise Eggs
. I haven't hit upon any good figurine collections and the toys aren't quite as cute as they once were. Maybe my egg picking abilities are off.
Well anyway, let's see what this little pile of plastic made. As ever, run your cursor over the photo to see it change.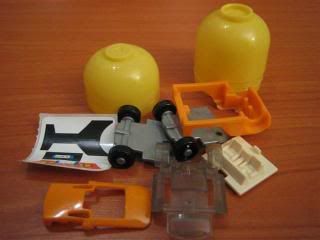 A car. My umteen zillionth car. And my disappointment deepens.