Don't Be Afraid...It Won't Take Long
The Tuesday knitting talk, that is.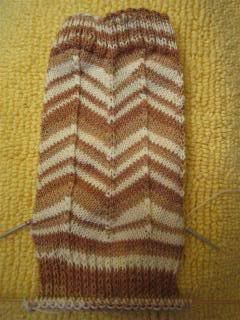 Another pair of Jaywalker socks, this time they're for my friend, Karen. She's a DJ for a country radio station in Virginia. B loves to listen to her broadcast online. Completely in love with her voice.
I wonder if going into the
Nashville Saloon
and bragging that I am personal friends with not only a real live country radio DJ but a DJ who has met many, many big country music stars would get me free fries?
Anyway, since I only knit one other Jaywalker sock and thought this colorway would look good all zig-zaggy I started another pair. It's also pleasing me no end that the colors look much prettier knitted up than they appear on the skein. All bronze and caramel color with the cream white thrown in. It reminds me of that Brachs caramel candies you'd find in the black and orange waxy paper at Halloween time.
Over the weekend I also cast on and started a new non-sock project for another friend. It's still in the super secret stage so I'll say nothing more except to say that I've knit this pattern before and loved the result and thought the recipient needed the same for her. Ach! There I go, letting out a clue. Now you know it's for a her.
Mr. Fab
?
Haddock
?
Big Finn
? I know you're crushed that it's not for you. Buck up, fellas!
Labels: knitting