Genuine is Always Best
Darling Mollie's Christmas present to me arrived the other morning.
By the way, I believe this past week should be referred to as the Darling Mollie Marathon.
Anyway, it arrived and when I told her that it did she told me that I could open it. Very unusual for Mollie as she's a strict adherer to the "Christmas morning only" school of gift unwrapping. She also asked me to call her as I unwrapped it so she could be fully in the moment with me.
I could see that the German customs agents had already opened the box as I cut the tape used to reseal it. First was luggage tag that had on one side "I'm pretty sure this isn't your bag.", which is exactly what Mollie's luggage would say if it could talk. I then saw a tiny envelope with my name on it.
"Mollie, did you close this envelope and then slit it back open again?"
"No."
"Well evidently Hans-Dieter in customs at the Frankfurt airport did. And I know why. They're searching for the plastic vagina."
Let us pause here to consider the plastic vagina. A mutual buddy began a discussion of why in a gay oriented sex shop would there be plastic vaginas for sale. Gay men wouldn't want one (and he would know this) and lesbian women wouldn't need it. The discussion went on - too long to recount here - but at one point the buddy said he'd considered sending it to me for a giggle. Mollie got a laugh out of the conversation and in the next two packages she sent me there was a reference in the notes enclosed that she was not including a plastic vagina in the shipment.
"I told you they are on the lookout for you to send me a plastic vagina! Or they're simply into plastic vagina talk!"
Nope, no girly parts, real or plastic, was in the box. The beribboned, clever box with the pull tab and the tissue paper that was practically like origami and the sweet little cloth dust cover inside. Instead, there was this: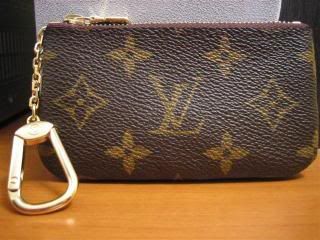 Yikes! I was not expecting that. I was not expecting a Louis Vuitton key and change holder. I would have sooner expected a plastic vagina than that!
I love it when friends really know you and know what you'd love to have. You see, I have this love/hate thing with purses. I love purses. I love cute purses and classic purses. Beaded bags and leather messenger bags. I love clutches and backpacks and doctor's bags. I just hate to carry them. In my world I like to buy great purses, pack them all neat and tidy (because while I may be a slob in my home at times, my wallets and purses are always ultra organized) and then let them sit where I can admire their wonderfulness. I will carry a handbag but if I can avoid it, I will and most of the time if I'm not driving then I just want to carry my keys and a bit of money with me. I got started with that habit when I was in college. Once, while in a bar, some guy threw up on a brand new Coach bag of mine and afterwards I would do my best to only carry some money and my ID and keys and a lipstick on me. I've had other key and change holders in my time but this will be my last one. I dare say this one will likely last me forever.
And holding true to my tradition, I have named my adorable little key and change holder Franck. Double points to you if you know from where I took his name. The name of my iPod should be a clue.
Labels: friends, groovy stuff