Envelopes of Cute
I love to get little goodies in the mail. When I was a kid I'd get all charged up when the
Christmas Seals
would come in the mail for us to stick on the backs of Christmas cards. I liked the free address labels too. I even got a thrill out of the teeny tiny red pencil that would come in a solicitation for Time Magazine.
Today I was showered with treats in my mail. The first envelope was from my friend,
Karen
.
A few weeks ago I'd made a comment on a online forum she and I both visit that what sucked about voting absentee is that you don't get a groovy little "I voted!" sticker to wear all day long. Karen, not wanting me to miss out, offered to send me hers. Still on the wax paper and everything.
Isn't that a scream that she sent me that sticker? I collect campaign buttons (I have one for every Democratic candidate going back to Jimmy Carter) so this will fit right in with my collection. Then for an added treat she sent me this bracelet: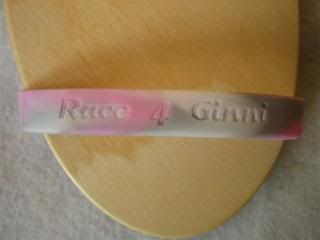 Karen's sister,
Ginni
, bravely battle breast cancer for over ten years until she ended her fight in April, 2005. For many years now Karen has worked hard to raise money for breast cancer awareness and research and this bracelet was for the Race for the Cure team in Ginni's honor. Ginni was someone who taught me bravery and dignity and strength and grace and so having this bracelet to remind me of her and to remind me of how Ginni lived makes me very happy.
My other envelope was also from America. I participate in some sock knit-alongs where I have to complete at least one pair of socks each month. In one of the knit-alongs the names of those who complete socks for that month are entered into a random drawing with knitting goodies as the prize. My
obsession with
slavish devotion to
commitment to sock knitting paid off when I won this:
Perfect since I'd been looking for orange sock yarn. With the sock yarn were these: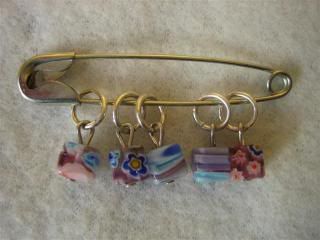 Stitch markers. They're great to have so you can place one between stitches in your knitting to remind you to do something like an increase or decrease when you come around to the marker or they can demarcate pattern repeats. You didn't get that, did you? Okay. They're great because they're pretty and cute.
And that's what I've always loved best about little goodies in the mail. The cuteness of them.
Labels: daily