Friday Shuffle - Baby's First Shuffle Edition
I've named him Fletcher.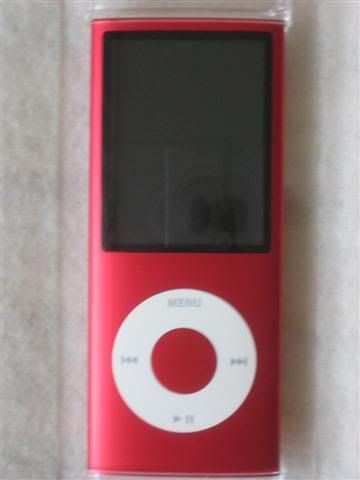 For my birthday on Monday my wonderful husband has presented me with an red iPod nano and I feel pretty good about my decision to go with a nano instead of an iPod classic.
I thought at first that I'd pick the classic for the storage space and to use for data transfer but I know that I'd end up not really using it to its full capacity. I'd probably not use it to half capacity. We have already a 250 gig external hard drive and are likely going to buy another so that's what we use for backing up files and for data transfer. And while being able to carry around my whole iTunes library might be nice, I don't really want to do that. I don't watch video on my iPod, I don't tote around photos on my iPod and I simply don't want to carry around the complete works of Mozart on my iPod. Mozart can keep his ass at home.
The 16 gig nano seems to be more of what I want to use an iPod for. When I'm at home I listen to music straight from my computer. My iPod is for when I'm out shopping or on the streetcar or for when I'm exercising or when I'm in the kitchen. Sixteen gigs is more than enough space for me to load up a tremendous amount of songs and a few podcasts. And the size is just right. Slim and compact, he'll fit into just about any pocket. I'm not fond of lugging around with me a lot of stuff when I'm out so a portable size is just what I want.
And the cute factor. Did you see him? He's
red
! While it was very tempting to get the pink or purple nano (even the blue was quite tempting), I couldn't pass by the red. It's like red lipstick. Classic and beautiful and sure to be noticed.
Last night while watching
There Will Be Blood
I whipped out an iSock for Fletcher the iPod. I have so much scrap yarn I may be making a new one for him for each day of the month.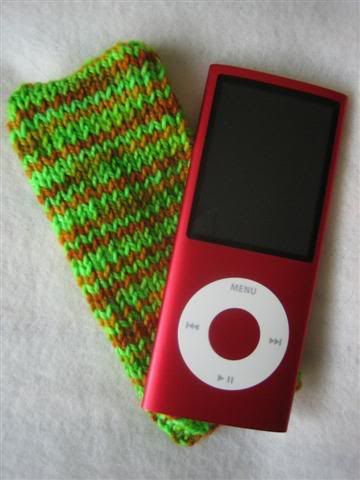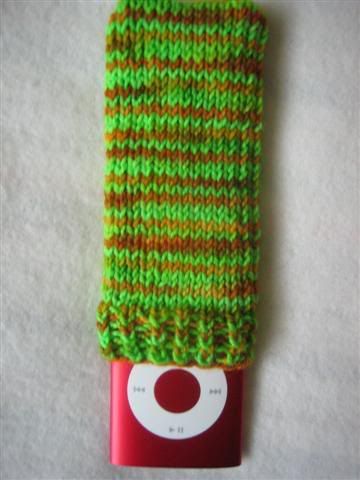 The screen on my old nano was so dinky that cover art wasn't of any real importance to me but with the larger screen and better resolution on Fletcher I knew I'd have to work on getting cover art for all the songs I have that are ripped from CDs. Lots I could get from iTunes but for more obscure things that weren't available I found the cover art from other sources and imported them to my iTunes. I can see having the correct cover art becoming an obsession with me.
So now that Fletcher the iPod has been tattooed (my husband had something engraved on Fletcher's back), received, loaded, cozied and now introduced to you, it's time for his most important function.
Time to shuffle.
Long Cool Woman - The Hollies
Since You Broke My Heart - The Everly Brothers
Miniature Sun - XTC
Houses Of The Holy - Led Zeppelin
How Did We Get From Saying I Love You... - Great Big Sea
Waiting Just For You - Blackmore's Night
Let's Be Friends (Skin To Skin) - Bruce Springsteen
Just A Memory - The Mavericks
Beautiful Dream - Adam Ant
Twist And Shout - The Beatles
He's new at the job but Fletcher already has the skill to shuffle up some of my all-time favorite musicians. I think he and I are going to get along beautifully for a long time to come.
Labels: Friday Shuffle, groovy stuff