Ugly Building, Beautiful Sentiment
So what's on your agenda for the weekend? I've got to finish knitting a sock, do a bit of housework, bake a cake for my birthday on Monday and I'll be participating in a march against fascists. A convenient one too as the march will literally pass by my flat.
The view from my balcony isn't the best, mostly because across the street there's a truly hideous abandoned building. It was a once an office building for the city's school system but now it serves its function as being an eyesore. This building is the finest in East German boring, we're-interested-in-function-only design but right now I think it looks terrific.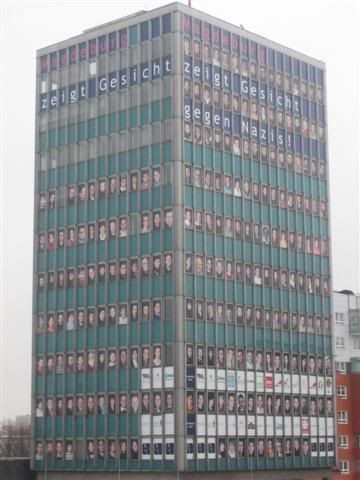 In the windows are photographs of ordinary citizens of the city and the sign above them says
Magdeburg zeigt Gesicht gegen Nazis!
(Magdeburg shows its face against Nazis!). Below the photographs are the corporate sponsors of this project. Often times words like "Neo-Nazi" or "right wing extremists" are used to describe fascists but in this case there's no mincing of words. They mean Nazis and they're going to call them by their rightful name.
It's not a secret that the former East Germany has become a gathering point for fascists. High unemployment and disaffected young people make for easy pickings for those pushing their extremist agendas and while they're a minority, they still shout pretty loudly. They like to use the of the
January 16th, 1945 anniversary bombing of Magdeburg
, not as a way to remember those lost that night or speak of the horrors of war but to march and spread their message of intolerance and blame the ills of the world on those who aren't like them.
This year the city has planned for January 17th a day for all those who are tired of these shrill extremist voices. To protest their message of hate and and intolerance. There will be a pro-democracy march through the city in which all will be encouraged to participate. Afterward there will be all sorts of events - musical performances, skits, speeches, even vendors. The message is that Magdeburg is
our
city and we're not going to be frightened indoors by those who want to take us back in time seventy years. It's a bit of a mix between a civil protest and a carnival but the idea is to make supporting democracy and freedom a happy event.
This won't the first anti-Nazi protest in which I've participated. I've been to other counter demonstrations and shouted
Nazis raus!
(Nazis get out!) until I could no longer speak. I was glad for my participation but this time I feel more positive about taking part. This time there's the feeling that the city and its citizens and businesses are joining together for a common cause and banding together to stop hate.
Labels: groovy stuff, Magdeburg