Friday Shuffle - Music from Unexpected Sources Edition
I'd planned on letting y'all in on what I've been doing for the past three weeks but since it's Friday let's just stick to a musical theme. I'll bear my soul next week.
I live smack in the middle of the city and my flat is very close to the university. It's the tradition here that when someone earns their doctorate degree that the person being honored rides on a barrel being pulled on a wagon while someone beats a drum and the honoree's friends parade along behind. We hear the drum beating fairly often and when we do either I or B will comment to the other, "There's a new doctor in town!".
When I heard the drum beats today I noticed that they were just a bit too rhythmic to be a regular new doctor's parade and there were some definite sounds of brass instruments being played so I tugged on some shoes, grabbed my camera and went outside to investigate and found this: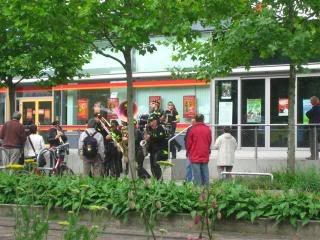 It was a jazz band from the Sax'n Anhalt music school (the state I live in is Sachsen-Anhalt so you can appreciate the play on the spelling) out across the street from my flat. They were out in front of a cabaret - I don't know if they were hired by the cabaret or it was just providence that brought them there but they were excellent. I sat there on a bench across the street from them as they played to the gathered crowd. They'd walk around the people as they played and get down on the level with the little kids and everyone loved them. I sat with my downstairs neighbor and her two little girls and watched the kids dance. Know what's so great about living in the middle of the city? A mini jazz concert can break out at any time.
My other tale of music today took me back in time about thirty-five years. A few years ago I
wrote about elementary school and the fantastic music teacher we had
who taught a bunch of kids to sing everything from Peter, Paul and Mary to the Cowsills to Manfred Mann to the music of
Jesus Christ Superstar
and
Fiddler on the Roof
. A few of us who went to school together have found one another again on Facebook and joined a group for those who attended our elementary school. Naturally a big part of the conversation within that group has centered on our beloved music teacher and she found us again as well and joined us. Those of us she taught were anxious to friend her and on her Facebook wall are lots of messages from folks who remember her fondly. Virtually every one of them thanks her for making music into something that has stayed an important part of their lives. Mrs. A is 70 years old now, lives in New England and still plays piano in a hotel lounge on weekends. She reports that many of those songs she taught us are part of her play list and the patrons often tell her they have their own fond memories of those tunes.
Our elemenary school choruses made a couple albums and I remember we were so proud of them. I'd lost mine years ago - in fact the hundreds of vinyl albums I had are gone forever...don't ask - but my old friend,
Elaine
, wrote to me and said she still had hers and she'd put the parts our class' chorus sang on CD for me. It arrived today and I played it immediately. Some of the songs I ddin't remember especially well but some are so burned into my brain that I could sing along with them without missing a word even though I haven't heard those songs in thirty years. The performances didn't sound perfect - the record was recored in the school's cafeteria so you can imagine what the acoustics were like - and there were all sorts of notes we didn't quite reach. I laughed at how crummy we sounded sometimes but we really weren't all that bad. And for what we may have lacked in pitch sometimes we made up for in enthusiasm. I remember that making these records was one of the highlights of our elementary school years and rehearing them now brings back memories I forgot I had.
Time to shuffle.
Clerkenwell Polka - Madness
Over It - Dinosaur Jr.
Relax - Frankie Goes to Hollywood
Rock Lobster - The B-52's
Heavy Cross - Gossip
For Emma - Bon Iver
Tiger Mountain Peasant Song - Fleet Foxes
One Day Like This - Elbow
Summertime Blues - Alan Jackson
Loreley - Blackmore's Night

Labels: Friday Shuffle