I'm such a beauty today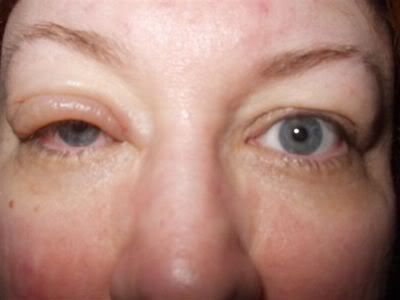 Attractive, no?
I have not the faintest idea what happened to my eye. Something woke me up around 7am - perhaps it was the irritation in my eye, perhaps it was the irritating noise coming from the noisy family above my apartment - but at any rate my eye hurt. Actually it felt like my eyeball hurt. It felt scratchy - not like something in my eye but more like something had scratched my eye. I have had my hay fever kick up lately but it was only my right eye that was giving me problems. It was quite red and watery and it hurt when I blinked. So after taking a look at it I decided there was nothing to do about it except try to go back to sleep and after trying to relax my eye I did fall back asleep.
I woke up around 9am and that's when I got a shock. My eyelid was swollen like you see in the picture - moreso really - and was quite red and weepy. However it had stopped hurting. I didn't even realize my eye had swollen to gigundo proportions until I looked in the mirror. Hmmm...maybe it should have struck me that my eye could hardly open but I suppose I just figured it was me being sleepy-eyed.
What in the hell is going on here? All day my eyelid has been swollen but it's lessened somewhat and it's barely red now. Doesn't hurt. Doesn't itch. It's still slightly weepy but even that's cut down quite a bit.
Best I can figure is somehow while I was sleeping I scrubbed my face down in the pillow and somehow flipped up my eyelid and irritated it.
Great. I look like some sort of freak. I wouldn't even go out today except to walk the dog. And I can't put on any mascara. I can't even find my eyelashes under that mess!