Monday Überraschung Ei Blogging
Or
Kinder Surprise Eggs
for those of you who know them better by that name.
Roll your cursor over the egg to see the what's inside. Why it's a capsule with a toy in it. Surprise!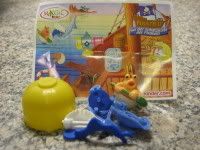 Yikes! Shark on my ass!
And special thanks to
Jen
who not only has a wonderful, fun blog (get yourself over there and read it!) but has directed her readers
here
to learn how to do that fun little photo trick!