Knitting Olympics, Day 4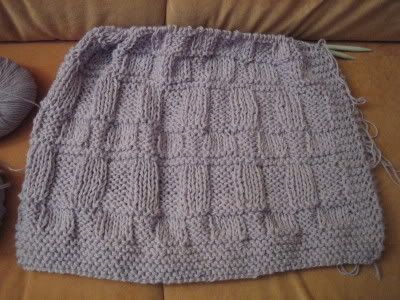 That's the progress I've made on my baby blanket project so far. It's flipped in half so obviously it'll be twice as wide and so far it's 14 inches long with the border and 2 1/2 pattern rounds finished. The end length is supposed to be 43 inches with 11 pattern rounds, four extra rows of the pattern round and the border on the other end but even with my piss poor math skills I think that's going to be way longer than 43 inches so I reckon I'll have it finished sooner than I had planned. The pattern isn't written very well - lots of typos and other errors - so it doesn't surprise me that I'm getting more length with less knitting. There's no gauge on the pattern so it's hard to know what this designer was thinking.
Again, the lighting doesn't do the color justice. In the photo it looks rather gray but in reality it's a pale, silvery blue.