Thursday Kinder Egg Blogging
I found Kinder Eggs on sale today for 25 cents - about half the normal price. I suspect they're a bit old but I don't eat the chocolate part anyway. With Kinder Eggs I'm all about the toys so they can be ancient for all I care.
Roll your cursor over the photo to see what my jumble of plastic turned into.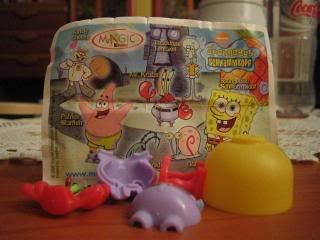 Check it out! Mr. Crab!
Sari's
gonna squeal when she sees that!