Two Things Autumn Brings
Socks and NaBloPoMo.
First the socks. I finished them tonight as I was watching
The Sopranos
.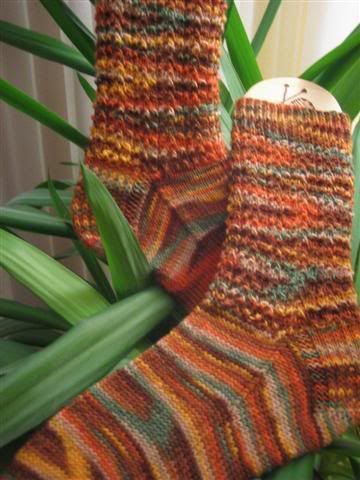 Quick yarny talk:
Pattern: Stems by Charlene Schurch
Yarn: Regia Galaxy Saturn (lovely to work with as all Regia yarns I've used have been)
Colorway: 01584
I noticed the Saturny look of the yarn was lost in the lacy leg so instead of running the leg pattern down the instep I just knit it all stockinette so show off the pattern of the yarn. Plus I think it'll make wearing them more comfortable.
As for NaBloPoMo, I'll be participating again this year. I know that these days one can participate any month but since it originally was a November deal I'm going to stick to tradition and make my month of blogging each day be November. However, this time instead of getting halfway through the month and having my blog entries consist of a lot of "Whine! It's hard to think of something to write!" I will go into this deal with an actual game plan - I'll be writing with a theme in mind: Favorites. Each entry will involve something that's a favorite of mine - book, song, album, band, movie, TV show, food...you get the idea. You may have to read entries about my favorite nut (which is the pecan, by the way) but going into this with a goal in mind should help tremendously.
What about you? Are you planning on NaBloPoMoing this November? Never tried it before?
Then jump on over here to sign up and take on the challenge
.