The design says it all
Expat Traveler
loves pictures and really loves pictures of the places we live so I'm obliging her today. I will also ask that she pray that my new recharger for my camera arrives tomorrow because I've squeezed out the last bit of power I had in the last battery pack.
What had me out on a cloudy, cool Sunday afternoon was the chance to see the World Cup trophy in person. It's currently on tour and today it was at the Magdeburger
Domplatz
along with games and exhibitions by sponsors of the Cup. I wanted B to come with me but I couldn't find a soul to help me get him into his wheelchair.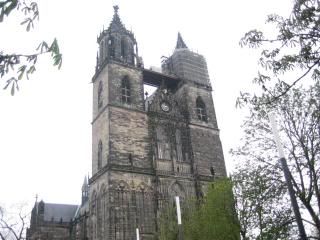 My token photo of the
Magdeburger Dom
. I must have over a hundred photos of this cathedral. I take one every time I'm near it and my camera is with me.
Before you see the trophy you get to see an eight minute 3D film depicting the "creation" of the trophy and then footage of previous World Cups - the ones since this particular trophy has been in use. The music was loud and thrilling and the film did just what it set out to do - get you hepped up for the tourament to begin. Afterwards you come out, line up, stand on an X with your hands down, get your photo snapped and you're on your way. No time to study the trophy and they don't let you very near it anyway.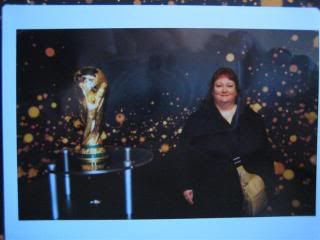 I look ten years older in the photo than I am but the trophy is pretty!
The crowds were less than I had expected but the kids were having fun.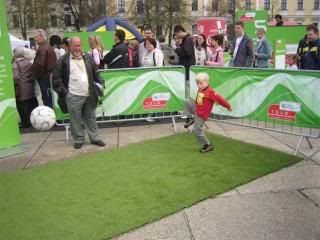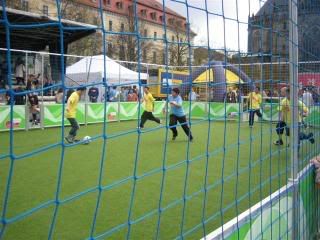 Goaleo the mascot was there but I got the hell out of there before I had to listen to
Love Generation
one more time.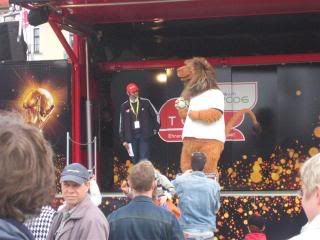 On the way home I took a few photos of the Grüne Zitadelle designed by
Hundertwasser
. I have a love/hate thing with this building. While I can appreciate it's unique design, I don't care for where it's located.
From the outside: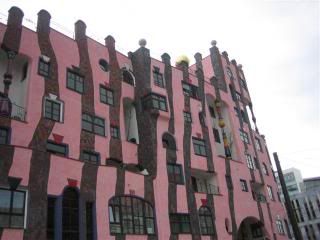 From one of the courtyards: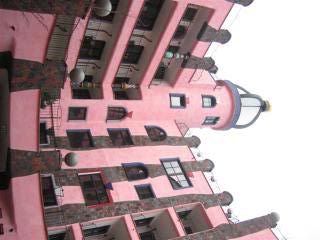 Also in one of the courtyards: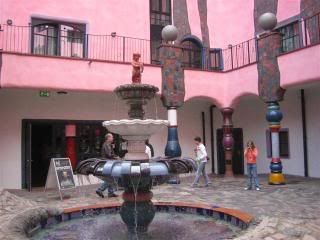 Everything is sloping and round and uneven. B and I considered briefly moving there last fall but the design would have made me crazy. I do like, however, how the shops in the courtyards are open. I'm not sure how they get around the "Got to be closed on Sunday" law but maybe it's because this place is a hotel as well as an apartment building.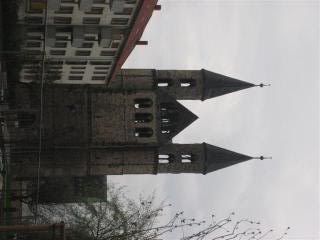 A photo of
Kloster Unser Lieben Frauen
snapped just as I was about to jump on a streetcar. It's the oldest building in Magdeburg and another building of which I have dozens of photos.
All worth a dead camera battery.