Thursday Lipstick Blogging
I've confessed before that I love lipstick and must at least scan over every lipstick display I see even if I don't buy anything or even have an intention of buying anything.
Traveller One
asked to see my lipstick collection and as I have a camera battery still holding a charge (it was a new one I'd never unwrapped) I am happy to oblige.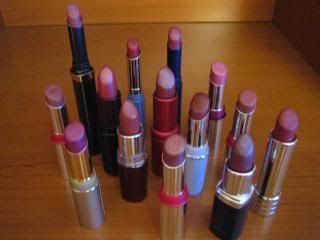 That's my current collection of lipstick I actually use on a regular basis - there are a few others that I seldom use. I used to have much more but when I moved last November I threw out every lipstick that was close to being empty, was ancient or was a color I'd never wear. I was brutal in my lipstick culling and this is what survived the cut.
Notice anything about them? That's correct! Give yourself a prize! They're all basically the same color. By golly when I find something I like, I stick with it! While they're all in the mauve/plum/brownish pink family, they're not all alike. Oh nooooo. Some are quite sheer. Some are opaque. Some have a strong matte finish and some are a bit shiny and sparkly. Some are long lasting and some have to be reapplied about three minutes after the initial application. Some are as moisturing as a lip balm and some are like applying painted sand to your lips. Some smell like sweet flowers or fruit and some smell like an oil refinery. Every outfit, situation, and mood deserves its own lipstick and dammit I'm going to keep working until I have all those outfits, situations and moods covered.
This is more than you wanted to know about my lipstick, right?
Mr. Fabulous
is either weirdly fascinated right now or the eyes have rolled to the back of his head.
On to other matters...
~ I have an appreciation for those to travel by bicycle. I encourage it and I try to be a courteous automobile driver when I'm sharing the road with them. However if I cross paths again with the guy on his racing bike during rush hour on the streets of the city when the empty bicycle only lane is not more than three feet to his side, he's going to take a hurting from me his helmet won't help.
~ My darling friend, Mollie, gave me an Amazon.com gift certificate for my birthday (generous as ever!) and I'd delayed in using it because I just couldn't decide on what I wanted to order. I placed my order last night and settled on
Big Girl Knits
and the
His Dark Materials Trilogy
, the latter because some of y'all recommended it. Sparky, I'm trusting your good taste in books!
~ Hair has been freshly colored today. I love going to the hair salon. Not just because I walk out with my hair styled and my roots gone but it's the one place I can sit and read uniterrupted for forty-five minutes.
I'm answering questions tomorrow. Get 'em in today if you've got a yen to be nosy.