Friday Shuffle - Quiz Edition
You ask the questions
, I answer them.
Barefoot
- I think next weekend I can swing a phone date. This weekend I may be a little tied up. Time difference stinks, doesn't it?
Expat Trav
-
This
is how I ended up in Germany. Love'll do that to you. I won't go on vacation this year unless we happen to head to Australia for Christmas but my family will be here in five weeks and that'll be my vacation. Good time for me to take pictures of Magdeburg! You can see some other photos I've taken of Magdeburg
here
.
Lisa
- You asked for a picture so here it is. Sorry it's not a better one but I'm not very good at taking photos of myself.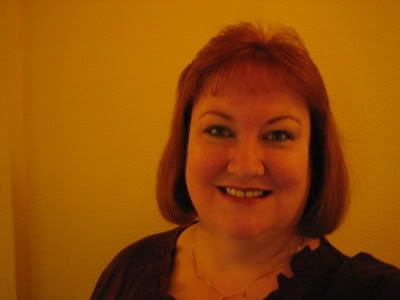 Mr. Fab
- I don't want to get rid of Wolfgang completely but I would like for him not to come over until he's invited - a rare enough event that I'd be effectively rid of him. But keep your associates on call, okay?
Trav One
- What do I do when I'm feeling blue? Mostly talk to B. Or read. Or nap. I seldom listen to music when I'm blue - no answer for why that is.
Sari
- Dix loves to haiku
But sudoku bores her much
It's all those numbers
My eye stays open
Ten to fourteen days is long
Thank God for Visene
cncz
- People from Corinth are weird? I thought it was the rest of the state that was weird! Actually I think it may be just all those folks from Tennessee coming over the border.
Eric - You and the Barefooted One better come visit soon!
Mollie -
This
is hands down without a question the funniest thing that's ever happened to me at work. It's not the funniest thing that's happened to me ever (Susan...if you're lurking you know what
that
is!) but it's probably second and the number one the funniest thing that happened to me at work.
Okay folks, time to shuffle! Turn on that music maker, set it to shuffle, tell me the first ten it comes up with.
Does Anybody Really Know What Time It Is? - Chicago
I Want To Know - The Mavericks
When Will I Be Loved? - Everly Brothers
Do You Want To Know A Secret? - The Beatles
Where Did Our Love Go? - The Supremes
Have You Seen Your Mother, Baby, Standing in the Shadow? - Rolling Stones

What Can I Do? - The Corrs
Who Are You? - The Who
What New, Pussycat? - Tom Jones
Why Does It Always Rain On Me? - Travis
Okay. That was a cheater's shuffle. But it fit the theme of the day. Bixente the iPod is amazing but he's not the miracle shuffler.
Question: What will I say next?
Answer: Have a great weekend, folks!