Fashion
I know you've been waiting to see Lottie in little pink panties and here's your chance. Lottie will be modeling her entire wardrobe, many pieces generously given to her by my dear friends Lisa and
Sari
.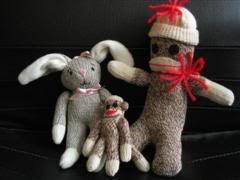 The audience assembles. From left to right we have Bernadette the sock bunny given to me by Lisa, Wee the tiny sock monkey given to me by Sari and the as yet unnamed sock monkey given to me by my sister. We need to work on giving that poor sock monkey a name.
We're beginning with intimate apparel. Lottie's modeling her sleeping suit that keeps her toasty warm on cold winter nights.
Perfect for Lottie to wear while practicing her ballet steps.
The famous teeny panties. Complete with...
...lace trimmed hole for her tail.
Lottie looks great in classics and this brown and red plaid dress fits her sense of style.
Lottie may be a city girl but she's got country roots. These little outfit is perfect for more tomboyish pursuits.
Summertime picnics are perfect opportunities to wear this watermelon slice print sunsuit. Feminine, yet sporty.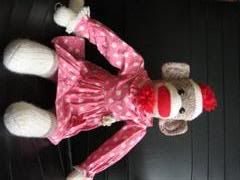 Dinner in an upscale restaurant or even Sunday church services demand something a bit more formal and this dress fits the bill perfectly.
The whole gang - Lottie, Bernadette, Wee and Poor Unnamed Sock Monkey are glad you paid a visit and hope to see you again in the near future!