Come and Gone
What is it about getting much-wanted visitors? You wait and wait for that planned visit, it finally arrives and then the time of their visit flies by at breakneck speed.
And so it's been with my sister and her family. I couldn't wait for them to arrive and once they did, we didn't have time to do everything we wanted to do.
It was a busy visit so I'll try to hit the highlights:
Within an hour of their arrival my nephew locked himself in the bathroom and couldn't get the key back in properly to get it unlocked. There's no doubt he and I are related.
My sister, not one to be idle, took advantage of the windy, chilly and rainy weather during the first week of their visit and reorganized my bathroom and pantry. We also rearranged furniture and hung pictures. And washed all the crystal. And reorganized my towel cabinet. And the shoes.

My BIL put down the outdoor carpet on my balcony and installed an awning.
We attended Magdeburg's four-day-long city festival and drank a lot of beer.
We discovered that once non-German speaking Americans consume enough beer they're able to sing along with German Volksmusik.
We also discovered that it's very good to live 150 meters from the beer tent when it's time to rid oneself of all that beer.

We visited Wernigerode and I bought some antique keys that now hang on my balcony. My husband isn't as enchanted with them as I am.

Lots of ice cream was consumed.
My sister and BIL are beginning to understand our love of soccer.
I managed not to cry like a lost child when I left my family at the airport this morning but only because I didn't want to explain it to the driver. At least this one didn't drive like a maniac.
And now for some photo highlights:
The Pfingsten parade that ran in front of my apartment building.
The one-man-band that was playing at the city festival. He appeared to be from somewhere on the North Sea coast.
The Native American flute players at the city festival. They appear to be from North America but the tags on their van say they're from Leipzig.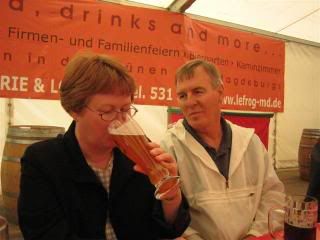 My sister and BIL digging on some Weißbier.
B and I at the beer tent. While I'm holding him tight out of love, I'm also doing it so that I don't topple over.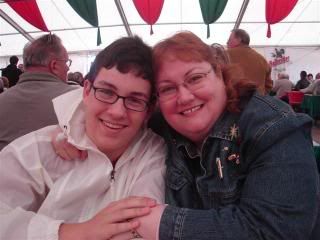 My nephew and me. I wasn't holding him so as to not topple over. I was already sitting.
It's all back to normal around here now and even though I miss my family like crazy, there's also something good to be said about getting back to a happy, familiar routine.