Oasis
I hadn't realized that taking a two week break would cause me to get out of the swing of blogging. Perhaps I'm in one of those post-visit funks and it'll take me a bit to get back into form.
So in the meantime, take a look at my redecorated balcony. It's changed from being the dull place where I stored my mop buckets to a little seating area where I can enjoy the summer weather.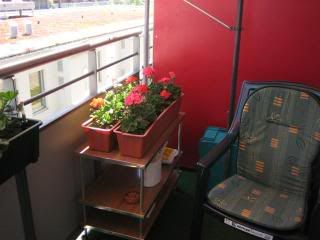 The stark bare metal floor has been covered with some lovely green outdoor carpeting and I have an awning to block the hot morning sun. I've hung flower boxes from the rail and on an old hostess cart I've put more flower boxes that I used at my old apartment.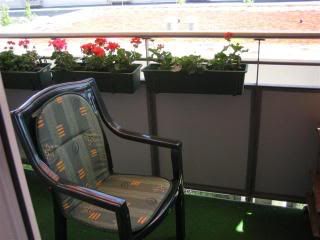 I was able to take advantage of my MIL no longer having a balcony at her new place and was given her old balcony chairs. Very comfy for knitting
alfresco
.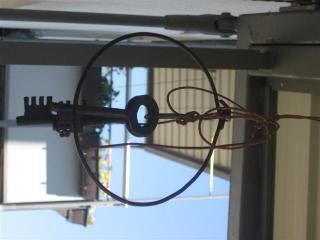 This bit of funky art was purchased by me last week when my family and I visited Wernigerode.
Here! Look at a photo of the
Rathaus
in Wernigerode. It's funky too!
Anyway, I collect antique keys and so when I found this hanging in an off-beat sort of gift shop in the artisan quarter of the town, I had to buy it. B hates it. He thinks hanging rusty antique keys on the balcony to be tacky.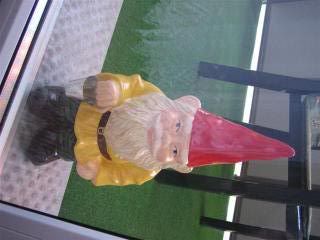 He does, however, approve of the garden gnome. My sister thought that if I was going to have a garden-like balcony that I needed a garden gnome and so she surprised me with one. He sits peering into the livingroom through the plate glass window holding his little bucket in his little gnomey hand. I think he's hunting for beer. His name is Schweini. B named him after Bastian Schweinsteiger. Antique keys are tacky to him, having a garden gnome named after a midfielder for Bayern-München apparently isn't.
Well...at least Schweini doesn't have some sort of creepy, demented look on his face. He looks friendly. Must be from all the beer in his bucket.