Yarn and Glossy Lips
Know what you happens if you're very, very good? A lovely friend comes to visit and brings
presents
! Who doesn't love presents?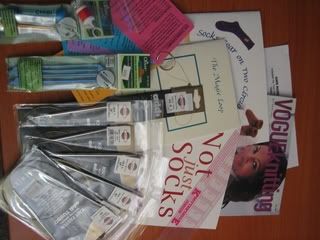 Not just pressies - knitting pressies! The newest edition of Vogue Knitting. Sock patterns. Booklet on knitting two socks on two circulars. Booklet on knitting with the Magic Loop method. Think I'm overboard on socks? Not to worry...I now have the pattern book
Not Just Socks
so I can knit other stuff from sock yarn. And what else there do I see? A gauge counter - hold it up to your swatch and it tells you the gauge without you having to count the stitches. Stitch holders. Addi double point needles - teensy ones. A row counter that hangs from your circular needle. Darning needles in a case so you're not digging for the damn things at the bottom of your accessory bag. Can't remember how to do grafting? No problem! That and other knitting must-knows are on ring bound cards - no more having to drag out your copy of
Stitch 'n Bitch
when you need a reminder. And what is that there gleaming in their little plastic pouches? Could that be?....yes it is!! Onetwothreefourfivesix pairs of Addi Turbos! The grooviest knitting needles in the world and I have a bunch of them! My sweet friend Laura came bearing the greatest gifts a knitting gal could wish for and we're not even getting into the great bunch of lip glosses she brought as well. Lip gloss and knitting stuff. If she'd brought strawberry Twizzlers as well I may have fallen in love.
So what do you do when you've got a great bunch of knitting accessories? Go expand your yarn stash, of course! We waved buh-bye to B and walked down the street in search of yarn and since the knitting gods were smiling upon us we were able to not just find some lovely Regia sock yarn but find it on sale for 2€ per 50 gram skein. I kept my purchases to the minor side but since this yarn sells in the US for much more, Laura grabbed a pile and I know tomorrow will have us going back for more.
We shopped. We talked. We knitted. We talked more. We shopped and then went for coffee and cake and talked. We came back home and knitted and talked and it went on and on until we were in such a frenzy of girly-girl action that we nearly burst into flames. Glittery, glossy ones.
And we're gonna do it again tomorrow. Keep the fire extinguisher handy.