The Interview
Sheila
offered and I took her up on it. She offered to ask me five questions and I'd answer them here for y'all to see. Her boyfriend is also a quadriplegic so it stands to reason that some of the questions pertain to that topic.
Read and learn, folks. There may be a pop quiz later.
1. How would your life be different if B would of never of been injured? (How was B injured, anyhow?)
Wow. I reckon everything would be different, wouldn't it? I met him many years after his accident (while he was in the army he fell into a swimming pool in one meter of water and landed on his head) so it's possible that I never would have met him had he been healthy (he and I refer to his non-spinal cord injury status as him being "healthy" although technically he's not unhealthy but instead has a permanent injury...it's just easier though to say "healthy"). However if all were the same except for him not being a quadriplegic I imagine we'd have kids, travel more, maybe even live in America. I think the closeness of our relationship would be the same but a spinal cord injury is so invasive in the life of the quadriplegic and those around him that I would say that virtually everything would be different.
2. If money weren't an issue, would you ever consider moving B, your mother-in-law and yourself back to the states? Along the same lines, if you all did move back to the states, where would you choose to live?
How much are we talking about when we're saying that money isn't an issue? Enough to pay for the sort of health insurance we require? That's the main reason we live in Germany. There is no way we could ever move to the US because there is no insurance company that would accept B. It's the reason why I most likely will always live in Germany - I have reliable health insurance here that I won't lose. I would have nothing in the way of health insurance if I moved back to the States.

However if we did move back to the US for whatever reason, I'm sure we'd live near my family in Mississippi. I like having family around.
3. Who taught you how to knit? How long ago? Have you ever wished you had learned a different hobby even though you enjoy knitting?
My mother first taught me how to knit and purl when I was around 10 years old. Just knit and purl. Couldn't cast on, couldn't bind off, couldn't make anything and stopped knitting completely until about 2 1/2 years ago when I bought a copy of
Stitch 'n Bitch
, bought some needles and some cheap yarn and taught myself the rest with the aid of the book. Knitting is certainly more fun when you can actually produce something.

I have learned other crafts - needlepoint, counted cross stitch, crewel - but I didn't take to them like I have knitting. It suits my need to be able to do it spur-of-the-moment because I never know when B will need to interrupt me and I like being able to make something other than wall hangings and pillow covers.
4. What is the one thing as a child / teenager you said you'd never do / say when you got older? Have you done / said it and thought, "Hm, I said I'd never do that."
When I was young I thought I'd never marry a man who wasn't a Southerner and I wouldn't live outside of the South. I wouldn't even date non-Southerners. The first time around I married a guy born in Mississippi and raised in Florida and Texas. Obviously him being Southern didn't help. Now, of course, I met and married not only a non-Southerner but a non-American and I certainly don't live in the South. I don't even live in southern Germany.
5. What is the one thing about B's injury that you knew about, but didn't truly understand until you had to deal with it in person?
I guess the thing I had explained to me but didn't really get until I had to help with it was the bathroom thing. I don't discuss this much at all because I don't like to compromise B's dignity but I wasn't sure how it would work until I saw in person how it would work. It doesn't involve diapers and it doesn't involve him ever spontaneously losing control of his bodily functions and that's all I'm really comfortable with saying about it except to add that it doesn't freak me out at all.
And Sheila has asked me a bonus question.
I was curious about how you go about getting B into his chair. I use a Hoyer lift for Tom, and it works wondrously well. (I can lift him by myself, with no Hoyer, if I absolutely have to, but prefer someone else with more confidence to do it.) Our Hoyer was provided for us through insurance. Along the same lines, is there an elevator in your building? How do you get B outside?
B is a tall man (or do you say "long" in you're unable to stand?) - he's 6'4". He's got these wildly long legs and it means that he doesn't fit in a lot of standard wheelchairs - they're simply too short for him. Here's his wheelchair: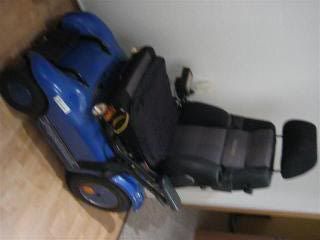 We used to have a Hoyer lift but it was more trouble than it was worth. First, B didn't like the feeling of being suspended in the lift - it freaked him out too much to have it swinging while getting him into position to lower him into the chair or into the bed. Second, it barely fit between the bed and his wheelchair and we struggled to get things into position. We finally gave up using it at all and after a few years when I accidentally stubbed my toe on it for the zillionth time we called the insurance company to tell them to take it away.

When we want to get B outside I have to rely on help. B's a foot taller than me and I simply cannot lift him high enough on my own to get him out of bed and over the arm and controls of his wheelchair. My MIL and I can lift him - I get him under his arms and she gets him under his knees and we pick him up and pull him over. We, however, try to get help from others. If it's a nice day and we want to go out we call friends who can come over and help me pick him up and get him in the chair. Some of the taller, stronger guys can pick him up on their own. If anyone helps me get B in his wheelchair, their drinks are on me for the day!

Sometimes there's no one available to help me get him out of bed and into his chair. Those are the days when we just stay indoors and appreciate having a nice home.

We do have an elevator in our building. Although our apartment isn't made specifically for a handicapped person we can still live in this building because the doorways are wide enough and B can get in and out of the elevator. My MIL's apartment also has an elevator but you have to take a half flight of stairs either up or down to reach the elevator so B's unable to go to her apartment.
Now it's your turn to play if you wish:
Leave me a comment saying, "Interview me." I will respond by asking you five questions in the comments here on this post so check back here. I get to pick the questions. You will update your blog with the answers to the questions. You will include this explanation and an offer to interview someone else in the same post. When others comment asking to be interviewed, you will ask them five questions.